Only Sector Winning in U.S.-China Trade War Is the Utility One
(Bloomberg) -- Turns out trade wars are good for utilities.
Those steady, boring companies long seen as safe havens were among the only gainers Monday as trade tensions between the U.S. and China clobbered markets. The S&P 500 Utilities Index rose as much as 1% after China said it would raise duties on some American imports. The remaining 10 industry sectors in the S&P all fell, with information technologies leading decliners.
"We profit on other people's misery," said John Bartlett, co-portfolio manager of Reaves Utilities ETF, run by Reaves Asset Management. "It's a great day for utilities."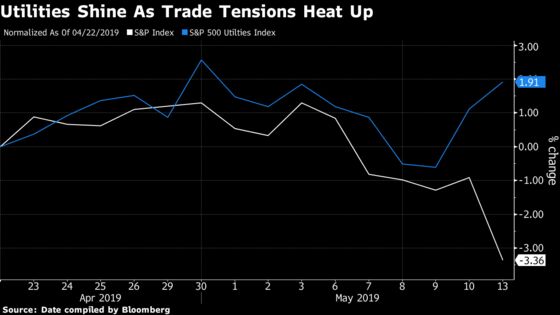 Tariffs won't impact utility sales, nor will they directly affect profitability, Bartlett said. And even if duties lead to higher steel prices or costs of other materials, utilities are apt to recover those expenses from customers, he said.