The Next Big Green Trade Is Divergence in Emerging-Market Stocks
(Bloomberg) -- Emerging-market stocks at the heart of the world's green transition are benefiting from a reallocation of capital away from traditional commodity producers.
The MSCI Emerging Markets Materials Index, which includes the likes of Vale SA and Tata Steel Ltd., this month plunged to an 18-month low relative to the Bloomberg Commodity Index, as gains there failed to boost producers of iron ore and steel. But while these companies suffered, those focused on lithium-ion battery components, organic silicon rubber and rare earth metals -- all used for sustainable technologies -- posted triple-digit gains in the past six months.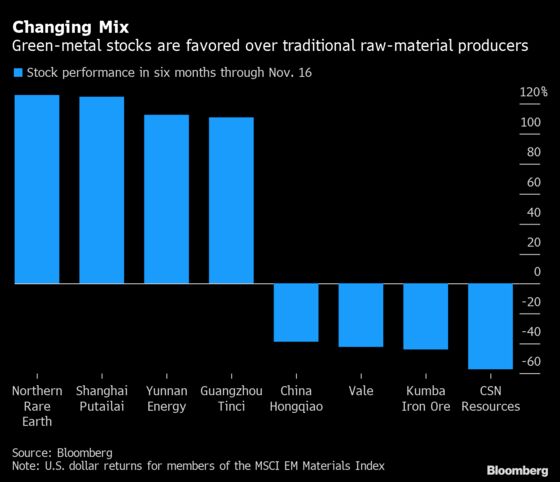 While the divergence is partly due to China's crackdown on emissions and energy-intensive industries, it's emblematic of an equity market shift toward green stocks. That's already playing out in the U.S. and Europe, led by bets on Tesla Inc. Money managers say there's now a catch-up unfolding in emerging markets, where commodities play an outsized role in driving investor allocations.
"The green transition is huge for emerging markets," said Jon Harrison, managing director for emerging-market macro strategy at TS Lombard. "There are opportunities in the manufacturing EM economies that will try to get in on the demand for electric vehicles and solar panels etc, as well as developments in other sustainable fuels such as green hydrogen."
The moves come as some governments that were lagging in efforts to curb greenhouse gas emissions are now stepping up. The United Nations COP26 climate summit this month saw India and Saudi Arabia commit to long-term net-zero targets, while discussions focused on reducing coal use and calls for more money from developed nations to fund a transition to cleaner economies.
The push for green in emerging markets could ultimately help dictate the investment outlook for the entire asset class. Materials account for nearly a fifth of the MSCI EM ex-Asia Index, and are the biggest drag on it in the past six months. By contrast they are a much smaller sector in developed markets, making up about 4% of a comparable MSCI gauge and not holding it back from a rally.
The emerging-market materials gauge fell for a fourth day Thursday, extending its six-month losses to 13%. The commodities index has rallied 10% in this period.
The producers of greener metals are mostly smaller and so have less influence on such indexes. For instance, China's Guangzhou Tinci Materials, a lithium-ion specialist that's rallied 111% in dollar terms in the past six months, has a weight of just 0.2% in the emerging markets materials index.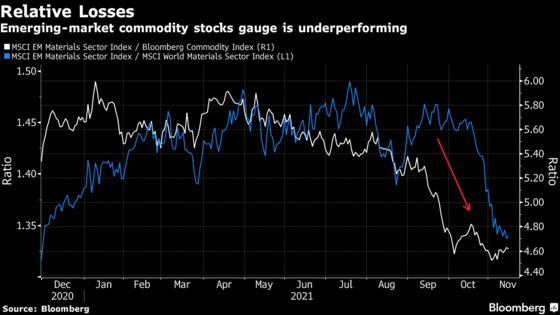 EM 360: Is Green Trade Getting Crowded? Performance Says Not Yet
The best emerging-market equity opportunities are from electric vehicles, alternative energy, hydrogen and green investments into Africa, according to Simon Quijano-Evans, the chief economist at Gemcorp Capital LLP.
In Africa, Renergen Ltd. is a renewable energy investor with big reserves of helium -- used in manufacturing semiconductors and optic fibres -- and is up nearly 60%. In Latin America, chemical and lithium-producer Sociedad Quimica y Minera de Chile SA is among the best-performing equities this year in an MSCI index of regional companies.
"Government regulations and targets to decarbonize and transition to clean energy systems are driving significant demand for some specific metals," said Hamad Ebrahim, the London-based head of research at the Global Palladium Fund, founded by Russian miner MMC Norilsk Nickel PJSC. "We expect the impacts in the commodity space to be here for some time."