The Names in the Frame as Westpac Begins Global CEO Search
(Bloomberg) -- The departure of Brian Hartzer from Westpac Banking Corp. amid a money-laundering scandal kicks-off the third search in a little over two years for a new head of a big-four Australian bank.
Westpac's Chief Financial Officer Peter King will hold the fort as acting CEO until a permanent replacement can be found. But he's likely only a temporary stand in. The 25-year veteran of the bank has previously announced he plans to retire in 2020.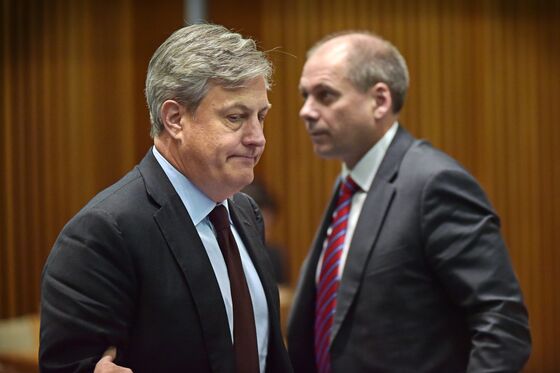 There's no clear heir-apparent for Hartzer internally. And headhunters have a depleted list of global candidates to call on after Ross McEwan was snapped up to replace Andrew Thorburn at National Australia Bank Ltd. Here are some of the names analysts and Australian bank watchers expect to be in the mix:
David Lindberg, Westpac's consumer bank CEO
David Lindberg, the head of Westpac's retail operation, is widely touted as the leading internal candidate. Consumer banking is the biggest contributor to profits at Australia's banks and can be the proving ground for future CEOs. For example, Matt Comyn headed Commonwealth Bank of Australia's retail operation before taking over from Ian Narev in early 2018. However, Lindberg has only been in the consumer role since April, so Hartzer's departure may have come too soon, especially given the scale of the task of restoring the bank's reputation.
Craig Drummond, Medibank Private CEO
Currently the head of Australia's leading health insurer Medibank Private, Craig Drummond has a stellar banking pedigree and has not been tainted personally with any of the sector's myriad scandals. Drummond was chief financial officer at National Australia Bank between 2013 and 2016 and headed Bank of America Corp.'s Australia operation for four years. He also worked at Goldman Sachs JB Were for over 20 years.
Mike Baird, National Australia Bank's consumer banking head
The former New South Wales premier was the leading internal candidate in the search for Thorburn's replacement, a job that eventually went to McEwan of Royal Bank of Scotland Group Plc. Baird pulled out of the race, with the Australian Financial Review reporting he didn't feel he could spend the necessary time in Melbourne, where National Australia is headquartered. That wouldn't pose a problem at Westpac, which is based in Sydney, Baird's home town.
Greg Ward, Macquarie Group head of banking services
Greg Ward, a two-decade stalwart at the Sydney-based Macquarie Group Ltd., always gets a mention when big Australian banking jobs become vacant. He was the man tasked with cleaning up Macquarie's financial services arm after compliance problems. He did the job so successfully that Macquarie emerged unscathed from the Royal Commission's inquiry into financial industry misconduct. However, it remains uncertain whether he could be lured away from his job at Macquarie.