The Little-Known Banker Shaking Up Germany's Beleaguered Lenders
(Bloomberg) -- Helmut Schleweis lacks the name recognition of Paul Achleitner or Christian Sewing, but he could end up making an even bigger mark than the Deutsche Bank AG executives on Europe's largest banking industry.
The 64-year-old head of the German savings banks association DSGV is the unassuming architect of an ambitious plan that could create Germany's No. 2 bank by combining several Landesbanken -- regional lenders that channel money for local public savings banks, or Sparkassen, to larger borrowers. It would be the culmination of a decade-long push to overhaul the sector.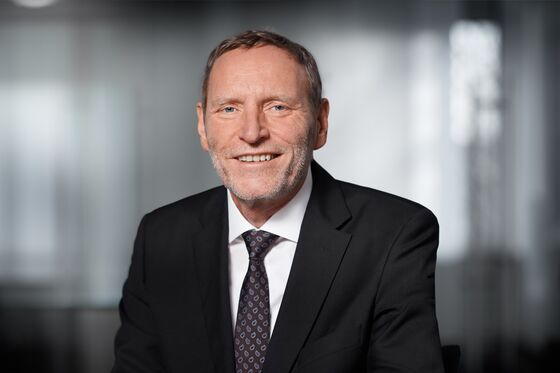 Schleweis, who has spent his entire career in the Sparkassen system, was the surprise pick a year ago to head the association that represents more than 500 public-sector financial institutions. Unlike past political appointees, he brings decades of hands-on expertise. He's made it clear in his rare public comments that change is needed to eliminate complexity in the fragmented system.
"The era of the traditional Landesbanken is over," he said in an interview with a Sparkasse trade publication in March, two months after his appointment as DSGV president. "Now is the time when we need strong top institutes -- or a strong top institute."
Schleweis has a unique profile in the Sparkassen sector. As head of the local savings bank in Heidelberg, he engineered a merger to create a lender with a balance sheet of around 7.5 billion euros ($8.5 billion) and was involved in three other combinations in the course of his career.
'Dream' Deal
His biggest coup was in 2011, when he pushed negotiations on behalf of the Sparkassen to buy full control of asset manager Deka in a 2.3 billion-euro deal with the Landesbanken. The transaction fulfilled an "old dream" of the savings banks, the executive, who declined to comment for this story, said at the time.
He has "merger experience like no other," Peter Schneider, president of the local savings bank association in the state of Baden-Wuerttemberg, said when Schleweis departed for his DSGV job a year ago.
His plans are now much bigger, calling for the combination of Helaba and struggling NordLB in a first step and then merging them with Deka and other lenders at a later stage, Bloomberg reported last week. The banks in question had total assets of some 682 billion euros at the end of last year, more than Commerzbank AG's 453 billion euros.
While the proposal faces significant hurdles, Schleweis is more dogged than his predecessor -- a former finance minister in Bavaria who got caught up in a tax scandal -- and is tenacious when pursuing a goal, according to a Sparkassen official who asked not to be identified commenting on personal matters.
NordLB's current financial troubles could play into Schleweis's hands. With Cerberus Capital Management and others seeking to buy a stake in the lender, Sparkassen that own stakes in NordLB are balking at letting in private investors, preferring instead a tie-up with another Landesbank.
Such a move could trigger broader consolidation, but it won't be easy. Germany's 385 Sparkassen and their affiliated Landesbanken are controlled by local or regional governments, so mergers involve a loss of political authority -- a fact that has stymied past consolidation efforts.
"I fear that merger initiatives in the savings bank sector will encounter massive political resistance at every level and will not be realized," said Ralf Jasny, a business professor at the Frankfurt University of Applied Sciences.
But Schleweis, who joined the Heidelberg savings bank in the 1970s and became its CEO in 2002, has shown he can use his current position as DSGV president to make things happen. In September, he pushed through a rule change that allowed HSH Nordbank to stay covered by the Sparkassen's deposit insurance for three years, longer than normal after a change in ownership. That stability was critical for the sale of the struggling Hamburg-based lender to a group of investors led by Cerberus and J.C. Flowers & Co. Ltd.
The Sparkassen lifer is aware that shaking up the ossified sector will be a long struggle, telling Handelsblatt in February that his efforts to shape the system for the future will "not be a big bang." Schleweis has at least until 2023, when his DSGV term ends, to make it happen.