The Knicks May Be Losers But MSG Is Looking to Move Forward
(Bloomberg) -- The New York Knicks may disappoint, but Madison Square Garden Co.'s doing a good job of moving on.
With the team failing to make the playoffs for a fifth consecutive season and fewer games in this year's fiscal fourth-quarter, MSG has turned to concerts and live events for its next phase of growth. The once-sports-centric business is now reeling in favorable returns thanks to $186 million in entertainment revenue for the quarter, topping the highest of Wall Street's estimates. Sports represented 50 percent of revenue for the year through June, compared to more than 60 percent for the previous three fiscal years.
Strong results from events at the Garden, Forum and Radio City Music Hall drove the revenue gains, Evercore ISI analyst David Joyce wrote in a note. Even with the shares slumping this week, Madison Square Garden's market value is still up 41 percent year-to-date to $7.1 billion.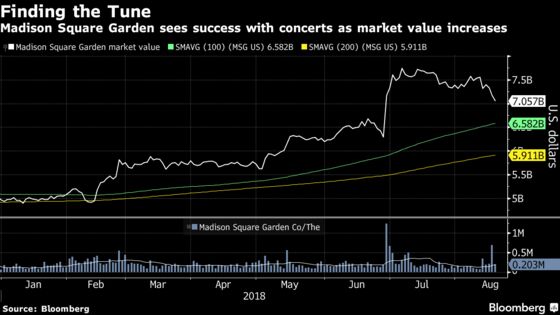 James Dolan, the New York-based company's billionaire chief executive officer, was key to diversifying the business. Dolan purchased TAO Group in February 2017, presenting Madison Square Garden with the ability to promote nightlife and restaurant options to ticketholders after events.
The transaction "appears to be financially accretive and transformative for the direction of the company's entertainment assets," Joyce said, reiterating an outperform rating and $360 price target.
In a further knock on the basketball team, the plan to spin off the Knicks and professional hockey team the New York Rangers will be a "win-win" for investors and its chief executive, said BTIG's Brandon Ross, the company's biggest bull with a Street-high price target of $385, in a July 10 note.
With Dolan's passion for concerts and hobbies outside of sports, the unveiling of the MSG Sphere -- a development scheme for an arena designed to redefine the live performance experience -- in Las Vegas and London should come as no surprise.
To be sure, investors still need to see more details. Gabelli & Co. analyst Brett Harriss said in a research report Friday that Madison Square Garden didn't provide any additional color on the planned spinoff in its earnings report. Nor did management discuss the capital requirements for the new Las Vegas arena. The stock ended the week down 6.7 percent, its biggest weekly decline in almost three years.
The goal is to open the Las Vegas venue as soon as possible in fiscal 2021 and for the London venue to open the following year, said Madison Square Garden president Andrew Lustgarten on the quarterly call on Aug. 16. The project "represents a meaningful growth opportunity" for the business, he said.
Now if only Kristaps Porzingis can stay healthy.