The Food Sucks, the Sex Is Worse: The Barclays Trial in Quotes
(Bloomberg) -- Former Barclays Plc executives Roger Jenkins, Tom Kalaris and Richard Boath were cleared of fraud charges in connection with a fundraising that saved the bank from a government bailout at the peak of the 2008 financial crisis. After a London judge dismissed charges last year, a second trial started in October.
Emails and phone calls between the defendants and others at Barclays in 2008 submitted to the jury captured the drama of the banking crisis: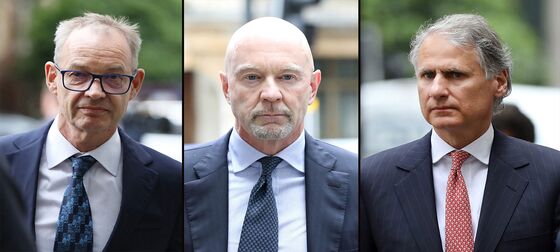 Qatar, the bank's cornerstone investor in the fundraising, first agreed to invest in Barclays on June 5, 2008, prompting then-Chief Executive Officer John Varley to share the news with ex-Chairman Marcus Agius. He described to Agius how Qatar's leaders, whose wealth was growing rapidly amid a boom in gas-production in the Gulf nation, were becoming significant players in global finance.
"Quail is bagged," Varley said in an email, using the bank's code name for Qatar. "Very helpful underpin. Took longer than I had hoped, but these people are the new cocks of the roost."
The case revolved around how to structure the payment of extra investment fees demanded by Qatar. While discussing options, Kalaris and Boath joked that they wanted to make sure that what they were doing was legal.
"None of us wants to go to jail here," Kalaris said, a recording of which was played to the jury.
"It ain't worth it and apparently the food sucks," Boath responded.
"No, the food sucks and the sex is worse," Kalaris said, prompting high-pitched laughter from Boath.
As Barclays hesitated on the extra fees, Jenkins grew impatient, telling Boath on one phone call that other executives should overcome their concern that regulators may block the deal.
"F--king stop messing around you stupid people," Jenkins said. "We want their money so take the f--king risk. Just put it in the prospectus, let's just move on for f--k's sake."
Paying Qatar's Prime Minister
The executives discussed the ethics of paying the extra fees in exchange for advisory services from Qatar. Because Qatar's then-Prime Minister Sheikh Hamad bin Jassim Al Thani was personally investing in Barclays and also being paid advisory fees, the executives wondered whether it was the right thing to do.
"The bit I think is dodgy is the bit about the Prime Minister," Jenkins told Boath. "He's the Prime Minister of the goddamn country. We're going to enter into an agreement with him at the same time as he's subbing some shares where he's going to give us advice. How's that going to read?"
Jenkins went on: "I'm very surprised that John Varley, given his ethics, is doing this. It's like having the president of the United States advise JP Morgan, you just can't have it."
Boath was on all the phone calls played to the jury, because he was the only defendant whose phone was recorded, as required for everyone working on the trading floor. In July 2008, Boath told Judith Shepherd, who was Barclays's deputy general counsel, that he was concerned that journalists would conclude that the extra fees for Qatar amounted to a bribe.
"My worry is every journalist just gets it and says, 'This is,' you know, well I hate to use the phrase, so I'm not going to use it," Boath told Shepherd. "It begins with B."
"We don't even think that phrase," said Shepherd, who wasn't accused of any wrongdoing by prosecutors. "It's just words that never come across our lips. I think we do want a paper trail about what we got for it. We don't want to be sitting there thinking, 'Oh God, we've got to create one now."'
In a later interview with investigators from the Serious Fraud Office, Boath said that "the 'B"' word was probably "bung." Boath told the SFO that he understood a bung to be a "corrupt payment."
After the first cash call proved insufficient to save Barclays, the executives went back to Qatar for more money in October. One of the executives not accused of any wrongdoing was Bob Diamond, who was then the head of the investment bank and later succeeded Varley. That October, Jenkins told a colleague that Varley and Diamond were panicking that the government would force a take-over of the bank.
"John is scared to death that the government turn up tomorrow morning," Jenkins said. "And Bob is f---ing paranoid." Diamond was also worried about losing his job, he added.
Boath made a similar point in an interview with investigators, while discussing the reaction within the bank when the China Development Bank pulled out of an investment at the last minute. "It was unimaginable, and I've never seen anything like it," Boath said, referring to the Chinese pull-out. "We didn't have a deal. Bob said, 'You know this is all about saving jobs: it's mine and John's."'
Jenkins spent several weeks on the witness stand, answering questions from his own attorney and from lead prosecutor Ed Brown. The prosecutor asked why the fees weren't disclosed to other shareholders in the prospectus for the second capital raising.
Jenkins had remained calm throughout, but said he was upset at the suggestion of his guilt when the arrangements had been approved by internal and external lawyers as well as every executive and director above him.
"To imply that I'm in some way guilty for this document, I'm sorry, I find it very difficult to continue that conversation," said Jenkins. "We have a board for this reason and I am not on that board. Sorry to be emotional about it."