The Coronavirus Is Squeezing Aerospace Beyond Boeing and Airbus
(Bloomberg) -- As the coronavirus outbreak wipes out demand for air travel, the impact has spread beyond airlines and planemakers Airbus SE and Boeing Co., endangering the constellation of firms that contribute the components and systems needed to build a modern airliner.
Engine makers Rolls-Royce Holdings Plc and Safran SA became the latest suppliers to detail the impact of the virus on Friday, with the U.K. company halting civil-engine production for a week to tighten safety measures and its French peer scrapping a $1.1 billion dividend and abandoning financial targets.
The sector employs more than 500,000 people in the U.S. alone, spanning jet-engine giant General Electric Co. to small businesses with only a handful of staff. As the crisis ripples down to companies with limited liquidity, not all will survive, according to Jefferies International analyst Sandy Morris.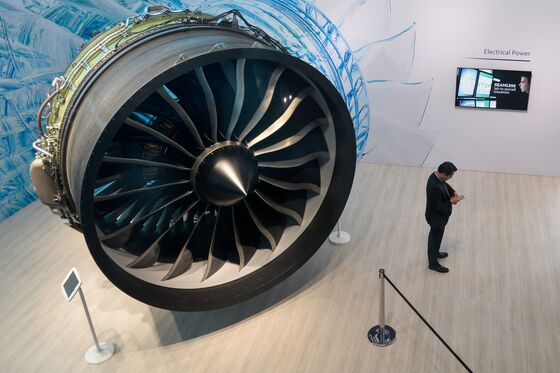 "We are looking for balance sheets that can take a lot of pain over one year, even two," Morris said. "There are precious few of them out there."
Here's how some of the sector's best-known players are faring so far:
GE Aviation, the world's biggest engine maker and a supplier to models such as the Boeing 787 Dreamliner and -- through its CFM venture -- Airbus SE's A320 narrow-body family, is cutting 10% of its 26,000 or so U.S. employees and plans to furlough half of its maintenance staff in the country for 90 days.
Unit boss David Joyce will collect only half his salary the rest of the year, while GE Chief Executive Officer Larry Culp will forgo all of his. The moves are part of a bid to save up to $1 billion this year.
United Technologies Corp.
The maker of Pratt & Whitney engines and Collins Aerospace cockpit controls and communications systems has suspended all non-essential spending, including R&D funding and outlay on buildings and facilities. The company has also introduced a hiring freeze and deferred employee bonuses.
The U.K. engineer says it will return to production with "modified operations" following the week-long shutdown, though its focus on supplying engines for wide-body planes including the 787 and Airbus's A350 leaves it exposed to the part of the airliner marketplace most vulnernable to a sustained slowdown. Morris said a decline in deliveries seems inevitable, though the company has a strong cash position.
Spirit AeroSystems Holdings Inc.
Spirit makes about 70% of the non-engine components for the Boeing 737, which had already ceased production for a year following two fatal crashes. Following the coronavirus outbreak it's now pausing work performed for the planemaker at its factories in Kansas and Oklahoma. Employees will still be paid, for the moment at least.
The German turbine maker and Pratt & Whitney ally scrapped its 2020 revenue guidance Thursday after ordering a three-week suspension of operations across several European sites amid what it termed emerging disruption to material supply. A spokesman said the production halt won't automatically translate into a reduction in engine output.
Mitsubishi Heavy Industries Ltd.
Mitsubishi, a key Boeing supplier making composite wing boxes for the 787 and doors and fuselage sections for the larger 777, was suffering even before the pandemic amid wide-body production cuts. The company, also a partner of Pratt and MTU in engine manufacture, said it has no immediate plans to reduce run rates or shutter operations, though Jefferies has cut its earnings forecasts for Japanese heavy industries over the next two years, citing unstable demand.
The U.K. company supplies planemakers with everything from brakes and sensors to fuel and safety systems. It pulled its dividend Friday after concluding that initial measures to reduce costs and maximize cash flow wouldn't be sufficient to cope with the collapse in demand. Its chairman has delayed his retirement due to the pandemic.
The French firm makes seats and landing gear, as well as turbines with GE via the CFM venture. It said Friday that parts orders had dropped "significantly," though Airbus hasn't asked it to slow engine deliveries.
As of Friday, the group has shuttered 26 sites including 10 in the U.S and and nine in India. Some are scheduled to restart next month, and Safran is working to bring staff back into its French plants after unions raised safety concerns.
"We have small suppliers, especially in France, who are shut down for two to four weeks," Chief Executive Officer Philippe Petitcolin said on a conference call. "This will cause us problems for our supply chain."