The Citi U.S. Economic Surprise Index Is Close to Going Negative for the First Time in Nearly a Year
(Bloomberg) -- In case you missed it, a number of economic data points have come in disappointing lately:
Overall, expectations for growth remain quite robust. However, it's starting to look like some level of reality is now setting in. 
Citi's Economic Surprise Index — which measures the degree to which economic data is either beating or missing expectations — is at its lowest level in nearly a year. And if we have a few more disappointments, it could go negative.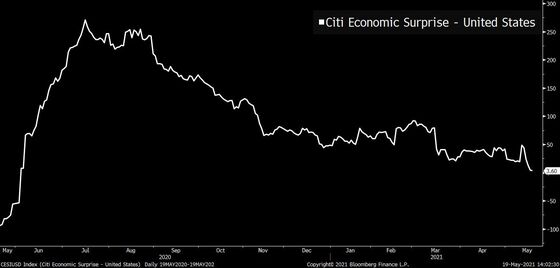 The last time it was this low was early June of last year.
When you think about the incredible stock-market rally that we've seen since last spring, you could argue that one of the drivers has been perennial underestimation of the recovery. Very few people believed things would rebound so fast. And everyone has always been waiting for some other shoe to drop. Remember premature fiscal tightening? Remember volatility surrounding the election? Remember the slow vaccine rollout or the risk of variants? There's always been something that, in retrospect, has caused people to be overly pessimistic.
Again though, nothing special happens when it goes negative. It doesn't mean the economy is suddenly bad. It simply means that the data points are no longer catching forecasters by surprise on the upside. After more than a year since the crisis started, the strength of the economy is no longer catching forecasters by surprise.