The China Developments May Knock Your SOX Off: Taking Stock
(Bloomberg) -- Macro is on the mind following weaker China data over the weekend and the continued spat over the Huawei CFO's arrest showing no signs of abating. Asian markets fell early though pared some of those losses as the session wore on, likely cushioning some of the impact across Europe and into the S&P futures. Despite signals over the weekend, frankly could be a lot worse considering the less than 10 handles.
As mentioned last week, you may be left wanting for major catalysts today, as with the exception of CPI and PPI figures on the data front Tuesday and Wednesday, equities will likely be taking their cues from trade diplomacy among a dearth of earnings.
You could look at the chemicals, as European names fell Monday in the wake of the BASF warning Friday. U.S. names Eastman Chemical, DowDupont, LyondellBasell Industries NV bore the brunt in late afternoon trade with Europe closed.
Defense names may also have an opportunity to reverse after President Trump was reported to have affirmed the budget request from Defense Secretary James Mattis. Trump had just last week called the defense budget "crazy." Goldman Sachs too, is bullish on defense names with Northrop Grumann, Lockheed Martin, Kratos, and Flir as top picks in 2019.
Marijuana names Aphria, Cronos, Canopy Growth and now Altria (following their investment Friday) may be in focus after last week's bookend-ed drama that saw the sector plummet early in the week after a short seller call's on Aphria Inc.'s business dealings (Citron followed with an opposing viewpoint). Friday saw Altria legitimize another pocket of the industry with its $1.8 billion deal for a stake in Cronos.
And naturally, momentum names, which have been the subject of much attention, especially following the recent rebalancing. The iShares Edge MSCI USA Momentum Factor ETF ended the week down 4.3%, not its worst week in months, but those looking for the segment to regain market leadership may need to exercise caution, Bloomberg Intelligence Chief Equity Strategist Gina Martin Adams wrote, as the "case for momentum retaking the lead remains weak." She cites "sparse" near-term catalysts for the segment.
And finally, a mini "merger Monday" is on hand, with deals for diet plan maker Nutrisystem and online travel system provider Travelport Worldwide. Travelport had been widely speculated as a potential target, as seen in the premium from the Friday close of just 2.2%. Deutsche Bank last week saw a case for the company worth near $18 (vs deal at $15.75). In the travel space, may be worth watching shares of Expedia, Booking.com, TripAdvisor and Sabre. Weight Watchers International may get a lift from the Nutrisystem transaction.
Growth Growth Growth, Or Is It inflation?
You get the sense day to day that the market doesn't really know what it wants. One day weaker economic signals assuage bulls as the risks for accelerating Fed hikes comes down. The next, the table is being pounded on the slowing growth trajectory as bears celebrate. The next, yields are too high, impacting the risk return premia necessary for equity ownership. Following that, cratering yields and flattening yield curves frighten even holders of high dividend paying staples.
Friday brought with it enough for everyone. The most actionable event in monthly payrolls data didn't disappoint. The figures were below expectations, but were just enough to absorb new workforce entrants and showing hourly earnings rose by less than forecast. The dollar sold off, though equities did too. The S&P then failed to reproduce its "mystery" bounce after Europe closed, with technology and communications services stocks dragging.
Energy did little to help the S&P from completing one of its worst week's since March, and little to change the year's trend and trajectory. Oil still hovers near the year's bottom despite slightly larger than expected cut in supply by OPEC. Had that not agreement not occurred, the S&P may have been at bigger risk to close below its November lows. As it was, Friday closed less than a point above the November's low close and around 50 points from the year's low close.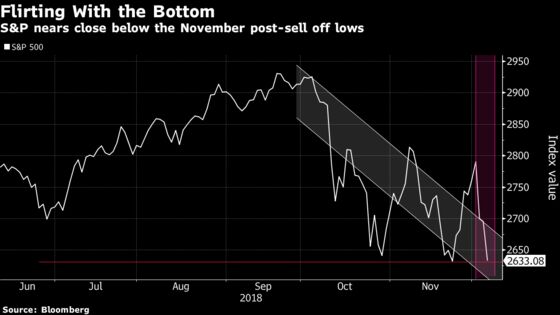 But when it comes to the jockeying narrative, growth appears to be getting the upper hand. Rather than growth with no inflation, concerns appear to be that growth itself is under threat, especially after the latest Chinese exports and import data and trade war impacts. Combine that with cautious growth comments from the IMF's outgoing chief economist on the U.S.'s prospects in 2019 and 2020 and its no surprise yields are coming down. Fed funds futures in the last week of November were once pricing in two hikes by May at near a coin flip, and by Friday, its now just a 1 in 4 chance. With the 10 year yield at its lowest in more than 3 months, utilities again will be in focus, as they were Friday when they were the sole segment higher.
For what its worth, Goldman Sachs's Chief Economist Jan Hatzius was out with a call discussing the "modest" softening of inflation in his expectations for the Fed hike path trajectory. He says a March hike by the FOMC would be a "close call" and disagrees with the current Fed Funds pricing. "The storm will pass," he writes with the Fed remaining on their normalization path given their economic forecast for above trend growth in 2019 and further unemployment rate gains.
Such was the selling Friday, that even a most bullish call from JPMorgan strategists led by Dubravko Lakos-Bujas and Marko Kolanovic failed to provide even a modest lift. They attributed the S&P return next year to large buybacks (Facebook added credence to the forecast, announcing a $9 billion buyback late Friday, its second of that size in 2018) and profit growth, but that failed to stem the tide.
Semiconductors appear to be bearing the brunt. Broadcom's results failed to lift semis on Friday, and though it stayed in the green for some time, by the mid afternoon all 30 members of the Philadelphia semiconductor index were red. Semis saw their worst three day decline since 2014, as relations with China and U.S. worsened after the arrest of the Huawei CFO. The situation worsened over the weekend after China summoned the U.S. Ambassador and issued warnings against Canada for its role in the arrest.
Neophotonics was hit hard by the Huawei news, and should be a stock to watch when it presents at a D.A. Davidson conference this week.
Add to that yet another Apple supplier lowering its output forecasts in Japan Display, according to Nikkei, and chipmakers may be poised for another struggle. Skyworks, Qorvo are already lower in pre-market trade, though likely on a combination of factors.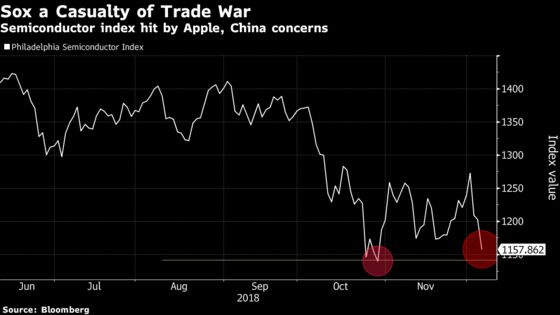 Tesla's Musk reemerged with a vengeance on 60 Minutes, admonishing the very agency (SEC) that he recently settled with over his infamous "funding secured" tweet; Trump's Chief of Staff John Kelly is leaving the position by year end (the President tweeted late Sunday he is interviewing for a replacement); Uber is said to have confidentially filed for an IPO, just days after competitor Lyft; Nissan's leadership drama took a turn with a WSJ report that Ghosn had intended to oust another executive before he was arrested. He was re-arrested and indicted along with Nissan earlier; Barron's cover story profiled Dell Technologies Class V tracker shares and how inexpensive it actually could be(the FT also dove into the "tricky math" of the deal as the vote approaches), while also discussing the relative attractiveness of homebuilder Lennar and machinery supplier Caterpillar; Dolphins stunned the Patriots on the final play with numerous lateral passes ending in a touchdown and victory; Oklahoma now boasts the last two Heisman trophy winners; Tina Fey & Amy Poehler are the favorites (followed by Ellen Degeneres) to host the Oscars after Kevin Hart bowed out; buying off layaway items en masse is en vogue once more, after reports of Tyler Perry, Kid Rock and Saints/Pelicans owner Gayle Benson as just the latest to have paid for strangers' presents as part of the holiday season.
As mentioned above, Goldman Sachs expects multiple years of growth in the Department of Defense budget, which should be a boon for NOC, LMT, KTOS and FLIR. Analyst Noah Poponak cited the tendency for defense names to outperform at this point in the spending cycle and sees the capacity for higher defense spending. Political parties have not had a "material impact" on spending historically, and more closely track geopolitics, he added in response to whether the house coming under Democratic control would be a factor.
FedEx was cut at BofAML, with analyst Ken Hoexter slashing his price target to $220 from $304 -- now just $13 off the street low. He cites the surprise change in the FedEx Express CEO portending a slight delay in profit improvements as part of the rationale. No near-term catalysts for the shares are seen despite the selloff over the past year.
Tick-by-Tick Guide to Today's Actionable Events
9:30am -- IDCC investor day
10:00am -- JOLTS job openings
4:00pm -- CASY earnings (roughly)
4:05pm -- ASNA earnings
4:15pm -- SFIX earnings