The Brexit Killing Season
Theresa May is trapped in a nightmare she cannot wake up from as the resignations pour in and the reality of Brexit dawns.
The U.K. prime minister won a short-lived victory in forcing her Cabinet to back a divorce deal from the European Union, the product of thousands of hours of agonizing negotiations. But it became clear in the cold light of day that many just couldn't stomach it.
The floodgates opened with Dominic Raab, the second Brexit secretary to depart in four months, followed by others in rapid succession. These Conservative euroskeptics had imagined a proud island nation escaping from the clutches of Brussels. What they got was a 585-page agreement that if anything prolongs the perceived entrapment.
It could well pave the way for a killing season in British politics – an ugly leadership battle, a schism in a Conservative Party that has been tearing itself apart over Europe for decades. Divided on Brexit, its members are united in loathing the shape it's taken.
It was a surprisingly poised May who addressed Parliament in a staunch defense of her plan as the best that could be hoped for. She was flanked by a handful of loyalists, with some senior Cabinet figures conspicuously absent. Could they be plotting her removal?
What will emerge from this wreckage is unknown – another election, another referendum or more negotiations. Until now, it was always the fear of the unknown that had kept May in place with the Brexit albatross around her neck. We are wading into uncharted waters.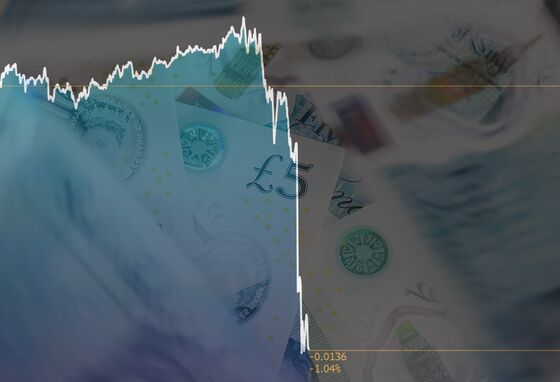 Death penalty | A Saudi Arabian prosecutor said today he will seek the death penalty for those responsible for murdering government critic Jamal Khashoggi at the Saudi consulate in Istanbul last month. While a Royal adviser coordinated the killing, Crown Prince Mohammed bin Salman had no knowledge of it, the prosecutor said. Faced with mounting pressure from its allies, Saudi rulers are trying to rally support on the home front. In Washington, Senator Elizabeth Warren is pushing large consulting firms to disclose the work they do with the kingdom, Jordyn Holman exclusively reports. 
Winners and losers | While the epic rout in oil prices is worrying leaders in major exporters ranging from Saudi Arabia to Russia, key importing countries such as China, India and Brazil will be purring. For the global economy, the decline isn't necessarily good news, write Jamie Murray and Ziad Daoud of Bloomberg Economics. It's less a case of increased supply than lower demand caused by weakening growth – and cheaper oil won't necessarily change that.
Hopes dashed | Israel's defense minister resigned and pulled his faction out of the government yesterday, threatening the survival of Prime Minister Benjamin Netanyahu's coalition and President Donald Trump's hopes of unveiling a grand Middle East peace plan his son-in-law has spent almost two years on. Avigdor Liberman, who has urged the government to strike hard against Gaza's Hamas rulers, quit after the security cabinet agreed to a truce halting two-days of fighting, and called for early elections.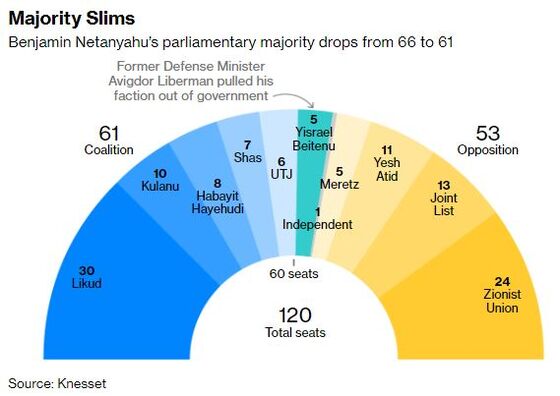 Bailing out | Top officials left Mexico's central bank and the hydrocarbon regulator quit yesterday amid growing concern that President-elect Andres Manuel Lopez Obrador will meddle in bodies formerly insulated from politics. Many in the establishment worry they will be collateral damage as the man known by his initials AMLO makes good on campaign promises to root out corruption, reduce violence and cut public sector salaries.
Island violence | Sri Lanka is now a country without a prime minister, with weeks of political turmoil culminating in a brawl on the floor of parliament. Two men believe they're the leader: the democratically elected premier, Ranil Wickremesinghe, who was sacked by the president on Oct. 26, and former strongman Mahinda Rajapaksa, who was appointed in his place. The chaos has already stalled foreign aid and a $1.5 billion International Monetary Fund program, and roiled the nation's bonds and currency.
About a dozen news outlets, including long-time cable news rivals CNN and Fox News, are planning to file a "friend-of-court" brief urging a judge to order the Trump administration to reinstate CNN Chief White House Correspondent Jim Acosta's press pass.
Trump's new trade deal with Canada and Mexico will require changes to secure support from Democrats, according to a senior House Democrat in line to play a leading role on trade policy in the new Congress.
And finally ... For Philippine President Rodrigo Duterte, sitting through eight straight meetings over 12 hours in Singapore proved a bit too much. The 73-year-old leader took a "power nap," missing four group sessions yesterday at the Association of Southeast Asian Nations summit in Singapore, including sit-downs with the leaders of South Korea and Australia. Last month he announced he'd taken tests to check for cancer that came back negative. Still, his spokesman insists he's in "top physical shape."