The Biggest Opponents of German Fiscal Stimulus Are Coming Round
(Bloomberg) -- The German political class is preparing itself to deliver bold fiscal stimulus if the economy needs it.
Lawmakers from Chancellor Angela Merkel's Christian Democrat-led group have been among the most crucial opponents of finance ministry plans to respond to an economic hit and their stance is beginning to soften, according to two people familiar with party discussions.
Critically, the CDU caucus in the Bundestag would be ready to break its long-held commitment to a balanced budget -- the much heralded "black zero" -- if a downturn required a more powerful reaction, according to one of the people, a member of the parliamentary group.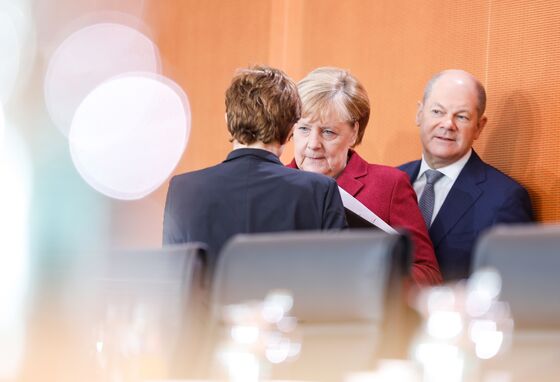 German bonds fell, with 10-year yields rising two basis points to -0.4%, the highest level since July 30, and the euro strengthened 0.2% to $1.1049 as of 8:15 a.m. in Berlin.
Europe's largest economy already contracted in the second quarter and may have entered recession over the past three months as the global trade war buffets its export-led economy. Germany could suffer another hit if the Brexit negotiations unravel over the next week or the conflict in Syria spirals out of control.
And that is focusing minds in Berlin.
Merkel has hinted as much herself. She still insists the next generation should not inherit an unwieldy debt load. But last week she balanced that by saying Germans shouldn't become obsessed with a balanced budget -- investing in the future, including with a new climate package, is also a priority.
"This is not about taking up budgetary issues alone and saying the 'black zero' is our fetish," Merkel said in an Oct. 10 speech to a trade union in Nuremberg.
Just on Tuesday, the International Monetary Fund cut its forecast for German growth, predicting an expansion of only 0.5% this year. It reiterated its call for the country to ramp up budget stimulus.
In a time of cheap credit and global economic disruption, the finance ministry under Social Democrat Olaf Scholz is already shifting away from decades of economic dogma focused on public savings. The government has drawn up a raft of options, including subsidies for electric car sales and tax cuts, that could be set into motion if needed, according to people with knowledge of the plans.
The IMF said that Germany should take account of low borrowing costs to invest, "even from a pure cost-benefit perspective."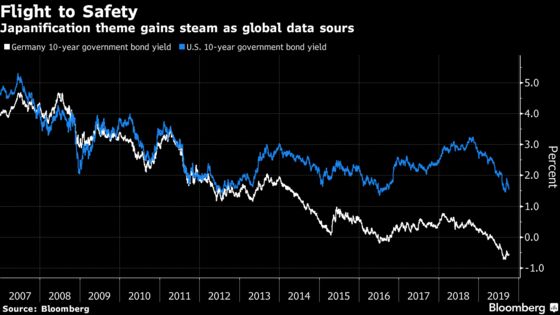 In August, Scholz, who is making a bid to lead Germany's Social Democrats, suggested the government could muster up to 50 billion euros ($55 billion) of extra spending in a crisis. That figure matches the extra borrowing deployed in the global financial crisis a decade ago.
"We're in a position, with the financial fundamentals we have, to respond with many, many billions, if indeed an economic crisis erupts in Germany and Europe," Scholz told parliament in September. "And we will do it. That's Keynesian economics come alive, if you will."
But while the finance ministry is increasingly ready to embrace public spending, it needs allies in Merkel's party and its Bavarian sister group, the Christian Social Union. That bloc has long been a bastion of the fiscal discipline championed by Scholz's predecessor as finance chief, Wolfgang Schaeuble.
Getting Germany to use its fiscal space to bolster the economy has become a priority for European Central Bank President Mario Draghi and his imminent successor, Christine Lagarde. He told journalists last month that it's "high time for the fiscal policy to take change" in the region.
Part of the shift has to do with a growing recognition that Germany should take advantage of historically low interest rates to invest in upgrading its infrastructure. As part of the climate package unveiled last month, Merkel's coalition agreed to pump 1 billion euros a year into the state rail operator, Deutsche Bahn.
Merkel's caucus colleagues still won't be shifting on the so-called debt brake which limits German deficit spending, according to the CDU lawmaker. And he also insisted that a shortage of shovel-ready projects and too much bureaucracy rather than a shortage of cash -- the state has plenty of unspent funds already earmarked. But the CDU is coming round all the same.
If the economy takes a further hit, the first line of defense will be increased payments from Germany's vast social insurance system, likely to outstrip dwindling tax income and blow a hole in the budget, the two officials said. After that planners will weigh a more aggressive response, they said.
The economic clouds on the horizon are adding to a sense of urgency. Europe's largest economy reported an unexpected decline in joblessness last month. A crisis "is not in view, but indicators show that no turnaround is in sight either," the Economy Ministry said Monday in its monthly report.