European Oil Traders Are Shipping Gasoline 16,000 Miles to Australia
(Bloomberg) -- Summer is coming to Europe and that can only mean one thing. It must be time to send the continent's excess gasoline halfway across the planet.
At least 400,000 metric tons of gasoline have been shipped or booked for delivery to Australia from northwest Europe since the start of this year, according to shipping data compiled by Bloomberg. Over 10,000 tons of marine fuel will probably be consumed to transport these cargoes just on one leg of the journey, more than some refineries produce in a day.
While the precise motives for the trades are unlikely to become known, such cargoes could make sense because of the onset of Europe's summer, which means switching to gasoline that's more suited to warmer temperatures. That requires any excess stockpiles of winter-grade product to be cleared. Nonetheless, the cargoes also highlight the challenges Australia faces to supply itself or source alternative inventories more locally.
"Europe is very, very long gasoline and there's fierce competition for homes, whether it's in the U.K., or whether it's in the U.S. or Canada or West Africa," said John Spencer, founder of consultancy Red Red Kite, who has more than three decades experience in trading refined fuels. "People will do odd things" when they need to find markets for the fuel.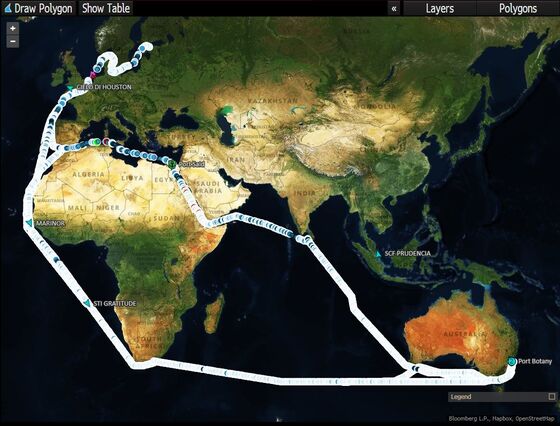 It's impossible to make an external judgment on how profitable the shipments would be because there are too many variables involved, Spencer said. There are financial advantages to making winter gasoline in Europe's summer and shipping it to Australia, he said.
European flows to Australia accelerated last year, having halted since 2012. Estonia and Latvia -- two Baltic states -- delivered cargoes for the first time in at least seven years in 2018, according to data from ITC Trade Map, a venture between the WTO and the United Nations.
Commodities trader Trafigura Group Ltd. was the main charterer for the 400,000 tons sailing or booked for delivery so far in 2019. A spokesman for the company declined to comment.
Between them, the tankers delivering the cargoes will probably burn something like 220 tons of fuel each day while carrying the gasoline, and about 160 tons when empty, according to figures compiled by Bloomberg based on data from Clarkson Research Services Ltd. If the carriers made a round trip, that would work out at about 19,000 tons of heavy fuel being burned.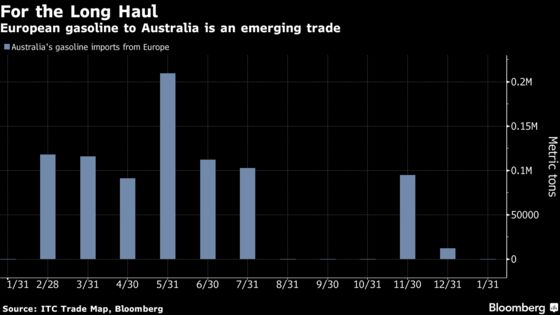 Long-distance freight is nothing new to shippers. In iron ore markets, cargoes from Brazil to China are one of the most important trade routes because of the millions of tons -- and thousands of miles -- involved. Likewise, jet fuel from Asia is now reaching Europe via the Arctic circle.
Based on recent bookings, some of the vessels probably cost in excess of $1.5 million each to charter. The voyage to Australia from the Baltic Sea, where several of the ships sailed from, is almost 14,000 nautical miles -- the equivalent of about 16,000 regular miles.