That's Seven Strikes for Powell Since He Took Over: Taking Stock
(Bloomberg) -- Another rally fizzled (it's an everyday occurrence at this point), the risk-off trade is back in vogue, and inversion watch has returned with a vengeance -- oh, and the ensuing futures session was a complete mess, with e-minis swinging overnight from 2,517 to 2,476 and now back to ~2,510.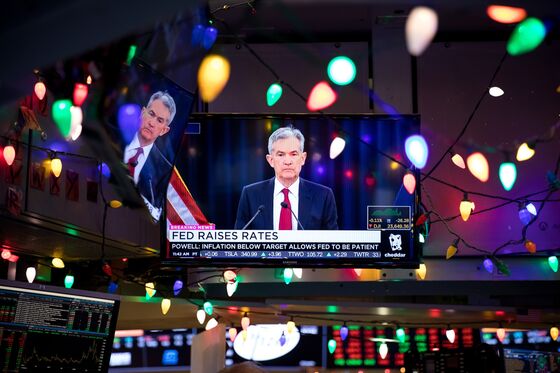 The takeaways from the rate hike, dot plot shifts, language tweaks in the Fed statement, and Powell presser were all over the place: Goldman says more dovish than expected, Morgan Stanley and Deutsche Bank say not nearly as dovish as expected, while others may have been blindsided after ratcheting up odds that a rate hike could have been taken off a table after those crushing forecasts from FedEx and Micron.
The market reaction wasn't skewed to one side over another when looking across asset classes. The "more dovish than expected" crowd was probably perplexed by the S&P 500 selling off close to 100 handles almost immediately after the rate decision and briefly breaking below 2,500 for the first time in over a year. But they likely golf clapped in unison when viewing the action in Treasuries, as the 10-year yield quickly slipped close to 10 bps from its peak to 2.75%, its lowest level since April.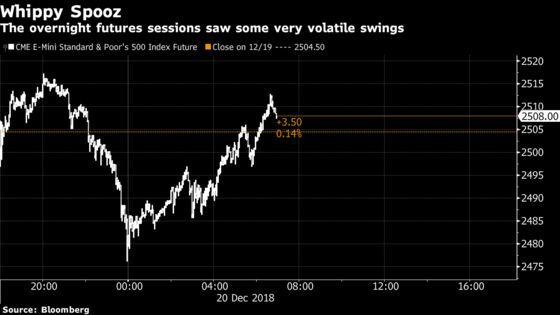 There's a boatload of reasons that the jilted bulls are pointing to for the recent downturn, as mentioned in Wednesday's Taking Stock column, but blaming the Fed just got a bit more popular. I mean, is anyone else wondering where Trump is with the Powell-bashing tweet? You know that has to be coming at some point.
But I find it interesting that ever since Powell took the helm from Yellen, equities haven't reacted positively on the major event days. In all seven Fed days under Powell, the S&P 500 has ended the day in negative territory:
March 21: -0.2%
May 2: -0.7%
June 13: -0.4%
Aug. 1: -0.1%
Sept. 26: -0.3%
Nov. 8: -0.3%
Dec. 19: -1.5%
And so after yesterday's troubling selloff, the prospects for support in stocks near term look pretty grim, especially in the face of a mounting wall of worry and limited catalysts through the end of the year.
We ended up closing a crack above the 2,500 level, but if that gives way anytime soon we're looking at the next support closer to 2,400. This was the breakout line two summers ago (see chart below), so it's a start, but I can't imagine conviction there is too strong considering how previous technical floors have held up in this latest rout.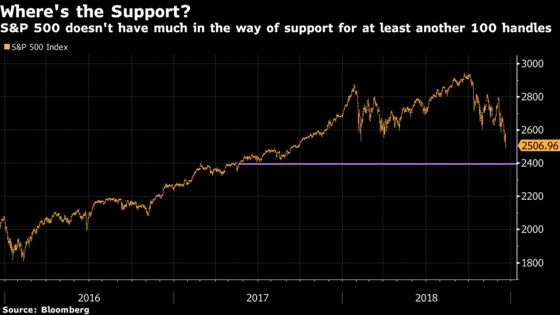 Things look even worse for small caps. A chart of the Russell 2000 shows an index in complete freefall and without a care for how oversold its conditions are. Its RSI is well below 30, a trigger that has previously led to a sizable bounce in recent years, though something tells me many market participants think that this time is different.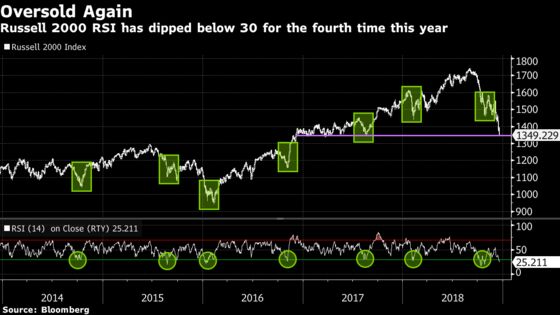 Aside from a shift in herd mentality by a lot of people with a boatload of money who now feel the market is too oversold, what exactly can give this selloff a bit of respite?
It's not helping that everyone keeps screaming bloody murder (Kyle Bass on EM "flashing red," Gundlach on the likeliness of a bear market, Steve Cohen on an eventual bear market, Dalio on an off-the-charts conflicts gauge, Druckenmiller throwing his hands up in anger at the algos, and so on), and that probably won't change as long as the direction of the stock market and the shape of the yield curve stay the same.
Even some of the biggest bulls are tempering expectations, like Credit Suisse strategist Jonathan Golub who sliced his 2019 S&P 500 target by more than 400 points.
And so where are all the contrarians? Where are the economists saying the Fed is doing the right thing? Where are the market experts saying that valuations are at an unconscionable low? Where are the companies allaying fears with talk that the trade war isn't a massive hit to business?
Actually Micron's management did say something to that effect the other day, but the brutal comments from FedEx's CEO were clearly more in tune with the current pessimistic mood of the market.
Traders could see one silver lining here, though: Yesterday was the last time we'll hear from a member of the Fed until 2019, according to the current schedule.
Nike is the next large-cap bellwether in line to report results and help shed some light on how trade has impacted business.
Europe, which FedEx called out prominently when it slashed its forecast (and cratered >12% yesterday as a punishment), accounts for more than a quarter of the footwear and apparel company's total revenue, as the cropped revenue breakdown below shows, while 14 percent is derived from China. Bloomberg Intelligence had a good take on the situation last week, titled "Nike, Adidas' China Gains Could Shield Exporters From Trade War."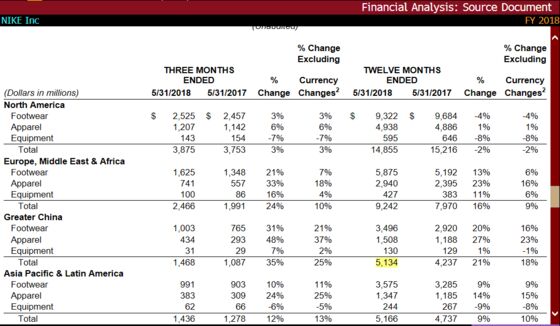 Suffice to say, we'll be watching for what the Swoosh maker says about trade, especially considering that its among the best performers in the Dow year-to-date and the fact that options imply a whopping ~7% move on the print. That's not too shabby for a ~$110 billion market cap company, and relatively high versus its own recent history, with shares only having shifted that much post-results three out of the last 12 quarters.
Pharma and biotechs after Reuters reported that 28 global drugmakers are planning to boost prices of medicines as early as Jan. 1
Pot stocks, especially those tied to CBD beverages like New Age, may gain in sympathy with Tilray (up ~15% pre-market) after signing a research pact with AB InBev
Cruise line stocks, like Royal Caribbean and Norwegian Cruise, ahead of results later this morning from Carnival
Athletic apparel and footwear names ahead of Nike earnings, as mentioned above
Needham strikes a near-term cautious tone on buy-rated Apple due to 1) rising China revenue risk, 2) weak demand in India, 3) rising interest rates, and 4) the potential for any offshore economic slowdown. In turn, analyst Laura Martin reduces estimates and slashes the price target to $200 (now below the Street average of $218) from $260.
Citi's 2019 outlook for the computer hardware sector shows slowing growth across most end markets. The analysts expect companies to boost M&A actions in addition to moving production or sourcing away from China. They downgrade Sanmina to a neutral "as the company as the second largest China footprint lagging sell-rated Jabil" and reduce IBM's price target by $40 to $125 (well below the consensus average of $153).
Morgan Stanley is turning more cautious on lodging stocks, citing a recent corporate travel survey and CEO confidence levels. The bank downgrades Host Hotels and Xenia Hotels, in a nod to their view on the lodging REIT sector. In contrast, the analysts are more bullish on U.S. regional gaming and upgrade Boyd Gaming to an overweight.
Tick-by-Tick Guide to Today's Actionable Events
7:00am -- WBA, BB, SCHL earnings
7:28am -- CAG earnings
7:30am -- SAFM earnings
8:00am -- BB, ACN earnings call
8:30am -- Philadelphia Fed, Initial Jobless Claims
8:30am -- ATU earnings
8:30am -- WBA earnings call
8:30am -- RCII 4Q guidance call
8:45am -- NEOG earnings
9:15am -- CCL earnings
9:45am -- Bloomberg Consumer Comfort
10:00am -- Leading Index
10:30am -- EIA natgas storage
11:30am -- HIIQ analyst day
2:30pm -- Fed's Bill Dudley (ex-president of NY Fed) on Bloomberg TV
4:05pm -- CAMP earnings
4:10pm -- CI CEO David Cordani on Bloomberg TV
4:15pm -- NKE, CTAS earnings
5:00pm -- NKE earnings call