Thain Starts Summer With a Succession Party at Botanical Garden
(Bloomberg) -- John Thain, no stranger to executive shuffles, was in a unique position to observe a changing of the guard at the New York Botanical Garden. Wednesday night's "Transition Celebration" was a farewell to the garden's chief executive officer of 29 years, Gregory Long, and welcome to his successor, Carrie Rebora Barratt, who starts July 1.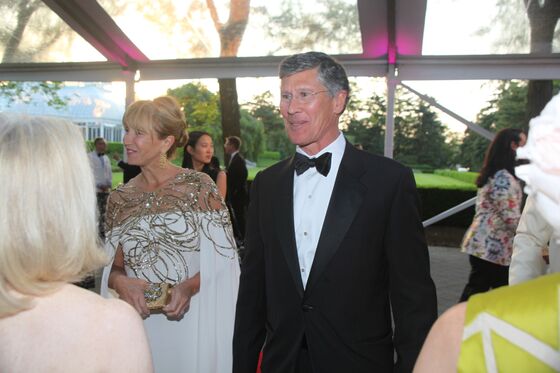 There was guitar music, a brief lecture on a new species of begonia called darthvaderiana, and remarks from the Bronx Borough President Ruben Diaz, thanking Long for making the garden a civic institution that has taught the city's children about growing vegetables and the role of bees and worms in the ecosystem.
"It's totally different," Thain, 63, said of how the nonprofit works versus the institutions of his career. Thain and his wife, Carmen, have been board members for more than 10 years.
Certainly this executive succession has been smoother than some of Thain's. He was president of Goldman Sachs before replacing Dick Grasso as CEO of the New York Stock Exchange. During the financial crisis, as head of Merrill Lynch, he sold the firm to Bank of America and was ousted less than a month later, eventually ending up at CIT Group. Just a few weeks ago, Deutsche Bank, dealing with its own abrupt CEO change, tapped now retired Thain to lead a supervisory board strategy committee.
In contrast, Long has had an almost three-decade tenure cultivating an urban oasis and international center of plant science. His bottom-up strategic planning process and fundraising skills have remade landscapes, restored historic buildings, added laboratory facilities and created a robust exhibitions program. The number of visitors has grown to 1.3 million from 391,000 in 1990; the budget, to $82 million from $19 million; the endowment, to $304 million from $17 million.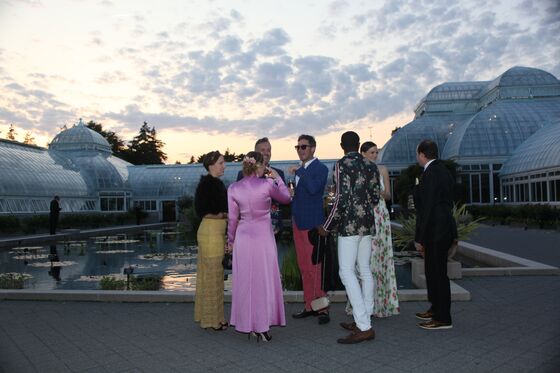 "Gregory is a Renaissance man," Thain said. "He's led the beauty of the garden, the educational efforts, the scientific efforts, and he's done it all with a humbleness and a friendliness and enthusiasm."
"He's found a lot of like-minded people that have really enjoyed working together," Carmen Thain added. That includes fellow board member Janet Montag, who's married to Bank of America Chief Operating Officer Tom Montag, and the Thains' son Zachary, of Soroban Capital Partners, who's weeded on the 250-acre campus.
Service to the garden "makes you a broader person than if you spend your entire life in the financial world," Thain said. Some visitors find respite on "forest bathing" excursions, where Buddhist monks guide visitors on a meditative walk through the Thain Family Forest.
Long's departure, more than a year in the works, culminated in three major events this month, all of which the Thains attended. First there was Long's 30th Conservatory Ball, the garden's annual spring fundraiser. This one was a luau, with hula dancers, palm leaves and pineapples -- a nod to the current show about the three months artist Georgia O'Keeffe spent in Hawaii in 1939.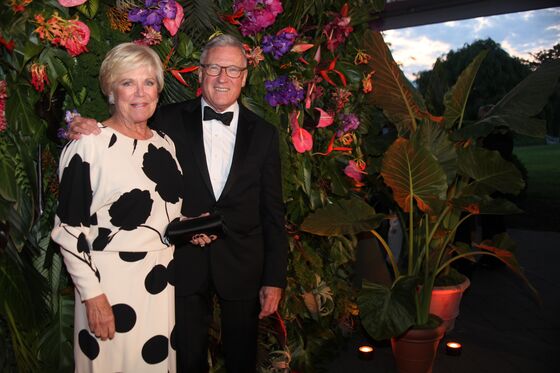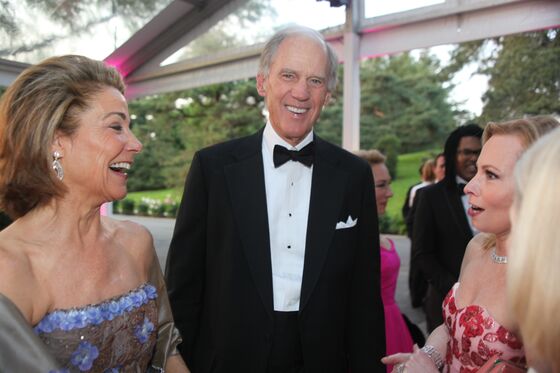 Then there was the opening of the Edible Academy, a $28 million project completed in 18 months. At the event, kids huddled over basil; Kate Solomon, founder of Babo Botanicals sunscreen, checked out a new platform overlooking the Bronx River, next to the apiary; and the Thains took a gander at the classroom and kitchen building heated and cooled by geothermal wells located under a new outdoor amphitheater.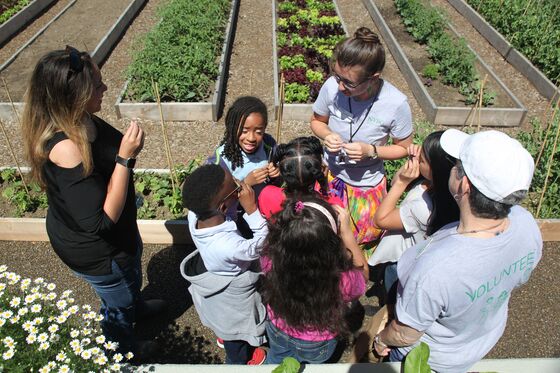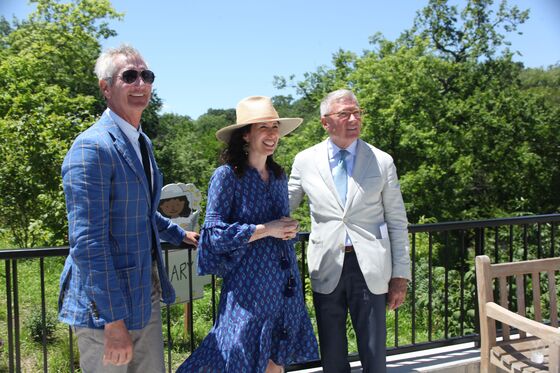 The final celebration on Wednesday got down to brass tacks, with guests including Michael Steinhardt, Jeffrey Rosen, Marvin Schwartz and Richard Chilton, whose wife Maureen is the chairman of the garden's board. Long thanked the Thains and others for raising $37 million so far for a President's Fund established in his honor.
"Now that's what I call a going-away present," Long said.