Thailand Adds Curbs as New Wave Threatens Economy, Tourism
(Bloomberg) -- Thailand banned the sale of alcoholic beverages in restaurants and closed schools for two weeks to stem the nation's biggest outbreak of coronavirus, likely delaying plans to further reopen borders to foreign tourists.
The closure of bars, pubs, karaoke and massage parlors in areas including Bangkok, the epicenter of the latest outbreak, will be extended nationwide until the end of April. A Covid-19 task force headed by Prime Minister Prayuth Chan-Ocha on Friday also designated Bangkok and 17 other provinces as areas under maximum control because of the severity of the outbreak.
Prayuth ruled out harsher measures such as a nationwide lockdown and night curfews, citing the economic hit of such steps on low-income groups. The Southeast Asian nation had last week closed entertainment venues in Bangkok and 40 other provinces for at least two weeks to contain the nation's third wave of infections that emerged from bars in the capital city.
Under the fresh round of restrictions, restaurants in the red zones must close by 9 p.m. starting Sunday, and those in less-risky provinces by 11 p.m. The Prayuth-led panel also directed employees of government departments and agencies to work from home for the next two weeks and appealed to the private sector to do the same. The panel also banned gatherings of 50 or more people without prior approval.
Prayuth said the government was in talks with vaccine makers including Pfizer Inc. and Russia's Gamaleya Institute to secure additional supplies as it seeks to inoculate 60% of its population by the end of the year. Any fresh procurement will supplement the 73 million dozes already ordered from AstraZeneca Plc and Sinovac Biotech Ltd.
The latest control measures dampen the annual Songkran festivities, when millions of Thais travel across the country for family reunions and holidays, and weaken private consumption and domestic tourism. An extended period of restrictions may delay plans to lure vaccinated tourists and further weaken an economic recovery that the Thai central bank says is contingent on return of foreign visitors.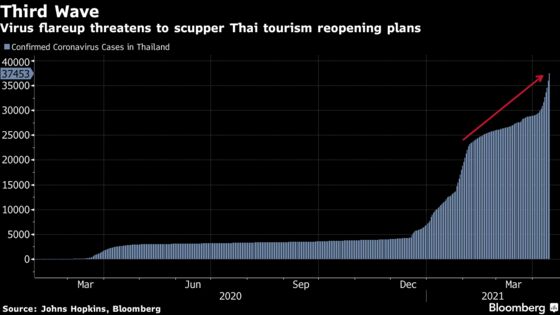 The new measures will hurt retail and recreation activities which had returned to pre-pandemic levels in recent months and derail attempts to revive the all-important tourism industry, Moody's Analytics said in a report this week. The economy will contract 0.6% in the first quarter from the previous three months, it said, reversing an earlier forecast for 1.3% growth.
"We expect the Thai government to roll out additional stimulus to lessen the fallout from the pandemic," Eric Chiang, associate economist at Moody's Analytics, said in the report. "Thailand will face a slow economic recovery, and the government deficit will remain elevated at 4.8% in 2021 and 3.2% in 2022."
While the benchmark SET Index capped a second straight weekly loss even after gaining 0.5% on Friday, the baht strengthened 0.1% to 31.243 per U.S. dollar for its first weekly gain in nine, according to data compiled by Bloomberg.
Thailand reported 1,582 new Covid-19 cases on Friday, a single-day record, that took the cumulative tally of infections to 39,038. The new wave, which began early this month, has spread to more than 70 provinces and infected more than 10,000 people, some of them with a more contagious variant first found in the U.K.