Thailand's Slump Pushes Spreads on Risky Bonds to a Decade-High
(Bloomberg) -- Thailand's tourist-dependent economy is slowly re-opening but the dent from the coronavirus outbreak is so large that weaker borrowers are facing a tough time in the credit market.
The International Monetary Fund forecast in April that the nation's economy will contract 6.7% this year, the most of any emerging Asian country. Yield premiums on riskier local-currency debt have jumped near the highest in a decade. At least seven lower-rated Thai borrowers failed to raise as much in baht notes as they'd wanted recently, according to data from the Thai Bond Market Association and Securities & Exchange Commission.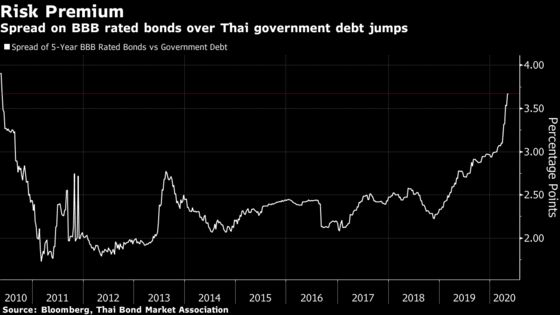 Chaiyuth Chunnahacha, chief financial officer of Ananda Development Pcl, one of the country's biggest condominium builders, was stunned last month when his company could raise only half of the funds it targeted in a bond sale. Chaiyuth said in an interview that the developer is planning to try another note offering very soon with signs of sentiment improving.
Government steps to re-open the economy will be crucial to boosting investor sentiment, as some Thai firms acknowledge that they've never had to deal with anything like the current virus shock and are now prioritizing revenues over profit. The nation's central bank has set up a bond buying program to support company refinancing and cut its policy rate to a record low of 0.75%. Given the hit this year though to tourism, the bank may lower interest rates to 0.25% and roll out a quantitative easing program in 2020, according to Bloomberg Economics in a recent note.
"Resumption of some businesses would offer much needed cash to most companies to fund their debt obligations," said Sakda Pongcharoenyong, the president of Tris Rating Co., which is partly owned by S&P Global Ratings. "But some companies will be facing a very tough funding outlook because the economic slowdown weakens their debt service ability."
Thailand has about 3,000 coronavirus cases, small compared with many other nations, and daily additions have stayed low. The country is slowly unwinding a lockdown that it introduced at the end of March but restrictions remain on domestic and foreign travel.
"Most investors are still very cautious about corporate bonds with the ongoing disease outbreak," said Nunmanus Piamthipmanus, chief investment officer at Bangkok-based SCB Asset Management Co. "This will continue for some time until this global pandemic is totally put down."
In a sign that issuers are still lining up deals, Charoen Pokphand Foods Pcl, Berli Jucker Pcl and True Corp. are among the nation's large firms that announced bond sales by the end of June.
Noble Development Pcl, a developer of residential properties, turned to bank loans for business funding and debt refinancing after raising about 25% of its planned bond sales of 2 billion baht ($62 million) in April, according to Chief Financial Officer Arttavit Chalermsaphayakorn. The company has no plan to sell bonds again until late this year when it needs money to repay debt that's due, he said.
"Most companies with low credit ratings would have some difficulty in selling bonds now as the tough economic environment raises concern about their debt servicing ability," said Tada Phutthitada, the president of the Thai Bond Market Association. "But this is not a big concern as most local banks' financial health remains sound and can provide support."