Thailand's Next Premier May Be Semi-Divine
Next month's Thai election just had a game-changing development: For the first time, a senior member of the country's royal family is a candidate.
Princess Ubolratana Rajakanya, 67, is the sister of King Maha Vajiralongkorn. She's running for prime minister via a party linked to former premier Thaksin Shinawatra. That's a monumental shift in a country where senior royals are treated as semi-divine and apolitical.
It's a little complex, so bear with us: Parties aligned with Thaksin have won every election since 2001, only to be unseated by the courts or the military in a more than decade-long tussle for power with Thailand's established elite. Thaksin is in exile and his sister, who was removed as prime minister in a coup in 2014, later fled overseas as well.
Securing Princess Ubolratana as a candidate potentially brings Thaksin back in from the cold, and is a blow to junta leader (and former army chief) Prayuth Chan-Ocha's bid to stay in power via the election.
With a slew of movie and television appearances and an Instagram page with about 100,000 followers, Ubolratana has a much larger social media presence than her royal siblings.
"It'll be difficult for parties to run against the princess," says Paul Chambers, a lecturer at Naresuan University's College of ASEAN Community Studies. "Thai ideology puts the royals at the top."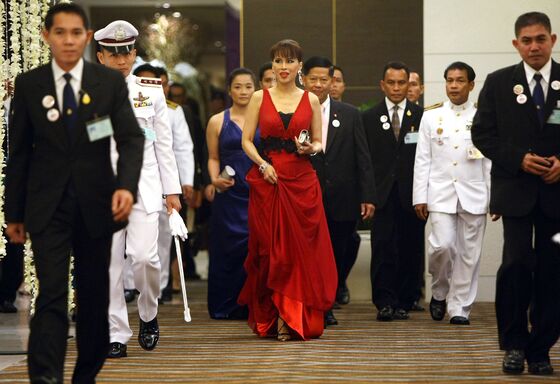 Business fallout | France and Italy are at loggerheads after Italian Deputy Premier Luigi Di Maio met a leader of the Yellow Vests protests near Paris – and business may pay the price. President Emmanuel Macron recalled the French ambassador to Rome over his feud with both Di Maio and fellow Deputy Premier Matteo Salvini that could impact French banks, an Alpine rail link and a shipyard deal among a string of contentious issues.
European warning | U.S. Ambassador to the European Union Gordon Sondland warned allies considering using equipment from Huawei Technologies or other Chinese companies in critical infrastructure projects that they could face restricted information sharing and fewer business deals. He also said the EU isn't engaging in good-faith trade talks, which could put a truce reached last summer at risk, Nikos Chrysoloras and Richard Bravo exclusively report.
Gold rush | By the time President Donald Trump signed an executive order authorizing sanctions on Venezuelan gold in November, a mysterious Turkish firm had already helped Nicolas Maduro move $900 million of the precious metal out of the country, Bloomberg News exclusively reports. Ankara has often tested the boundaries of U.S. tolerance, and the alliance between the two key NATO members is now essentially broken, according to senior U.S. officials.
A bemused world | Former Japanese ambassador to the U.K. Yoshiji Nogami regarded the British people as practical and pragmatic – until their 2016 vote to leave the EU. "I knew at the time there would be a mess," he told Isabel Reynolds. With Prime Minister Theresa May in Dublin today in search of a breakthrough with European leaders on a plan for Brexit, Nogami is like others across the world looking on with incredulity at the U.K.'s self-inflicted predicament.
Split vote | Bernie Sanders's army of fervent progressives will be up for grabs in 2020 even if he makes another bid for the Democratic presidential nomination. The field of hopefuls includes at least a half-dozen candidates who've adopted in whole or in part the platform that helped Sanders build a loyal following of young voters and liberals: Medicare for all, a $15 an hour minimum wage and debt-free college education.
Legislation to punish Saudi Arabia for the killing of columnist Jamal Khashoggi and for its role in the conflict in Yemen has been introduced in Congress ahead of today's deadline for the Trump administration to determine whether Crown Prince Mohammed bin Salman is personally responsible for the murder.
Acting Attorney General Matthew Whitaker has agreed to appear before the House Judiciary Committee today, defusing at least for now a charged partisan debate over threats to subpoena him to answer questions about Special Counsel Robert Mueller's Russia meddling probe and his conversations with Trump.
European Council President Donald Tusk may start a new political party in Poland before elections later this year, Rzeczpospolita newspaper reports. A former prime minister, Tusk is seen as a potential challenger to the nationalist Law & Justice party, which has clashed with the EU over the rule of law.
And finally... He came to Congress in 1955 and stayed for 59 years – securing the record as the longest-serving federal lawmaker in U.S. history. Former Democratic Michigan Representative John Dingell, who used his clout to champion U.S. carmakers, passed away yesterday at the age of 92.