Thailand Plans $7.2 Billion Stimulus to Rescue Virus-Hit Economy
(Bloomberg) -- Thailand is planning to spend billions of dollars in providing financial relief to low-income groups to cope with the economic hit from the biggest Covid-19 outbreak sweeping the nation since the pandemic began.
The cabinet gave in-principle approval on Wednesday for fiscal stimulus measures including extension of two cash handout programs by a month at a cost of 85.5 billion baht ($2.8 billion). It also proposed 140 billion baht worth of spending for co-payment and e-voucher programs and more cash handouts to welfare cardholders and special groups to stimulate domestic consumption, officials said.
The measures will be taken up by the cabinet for approval in coming weeks, according to Prime Minister Prayuth Chan-Ocha.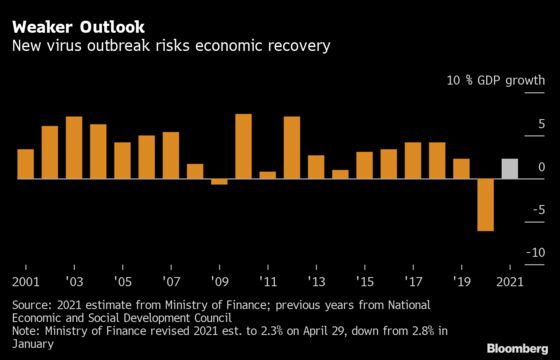 The Bank of Thailand on Wednesday unanimously voted to maintain interest rate at record low to support an economic recovery that's threatened by the slow pace of vaccinations and a delay in reopening the borders to tourists. Thailand's total Covid-19 caseload and fatalities have more than doubled since early April, triggering several control measures on businesses and travel.
"The government will implement the second-phase measures once the outbreak is contained possibly during July-December," Prayuth said. "We expect these measures will cover 51 million people and generate 473 billion baht in the economy."
Others key measures cleared at Wednesday's cabinet meeting include:
Cuts in electricity and water charges for most users during May and June
Approves 20 billion baht low-interest rate loans from state-owned banks
State-owned banks to extend grace period for principal re-payment till year-end
Approves 12.6 billion baht budget for the Health Ministry to handle the third wave of infections
Extends tax incentives for companies hiring former prisoners for a year until end-2021