Thailand Holds Key Rate Steady as Virus-Hit Economy Recovers
Thailand's central bank held its benchmark interest rate amid signs that easing pandemic restrictions and reopening borders are helping stabilize the trade and tourism-reliant economy.   
The Bank of Thailand's rate setting committee on Wednesday unanimously decided to hold the key rate at a record low 0.5% for a 12th straight meeting, as expected by all 21 economists in a Bloomberg survey.
The move comes as the economy recovers from the hit last quarter by Covid-19's delta-variant. Local economic activities have since picked up and consumer confidence soared over the past two months as Prime Minister Prayuth Chan-Ocha's government eased restrictions and accelerated stimulus measures. The nation has also allowed quarantine-free entry to fully-vaccinated tourists from more than 60 nations.
The central bank's policy setting committee said in a statement that its continued accommodative policy will support growth, that inflation is expected to remain within its target and that it stands ready to use more policy tools if necessary. It also sees the recovery subject to uncertainties and is monitoring the virus situation amid the reopening.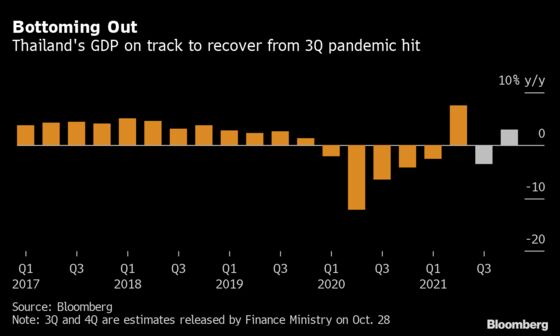 "I don't think today's decision and statement moves the needle much on Bank of Thailand's monetary policy outlook," said Euben Paracuelles, economist at Nomura Holdings Inc. in Singapore. "There is some discussion on inflation but BOT was clear underlying pressures are still low. This allows them to continue to focus on supporting the economic recovery."
Nomura expects the Thai central bank to keep its policy rate unchanged throughout 2022 as the nation's economic recovery may lag the broader region because of a slow rebound in tourism despite the reopening this month, Paracuelles said.  
The baht was little changed after the rate announcement, holding gains of 0.1% against the dollar and poised for a fourth straight day of advances. The currency has gained 1.3% so far this month. While the benchmark stock index pared losses in afternoon trading, the yield on 10-year government bonds rose two basis points to 1.883%.
The Bank of Thailand sees low probability of the U.S. Federal Reserve raising rates faster than expected, it stands ready to handle any impact on the nation's currency, bond yields and capital flows, Assistant Governor Piti Disyatat told a briefing.  
The monetary policy committee will revise economic forecasts at its next meeting on Dec. 22, Piti said. The panel may slightly raise its inflation forecasts, though the price gains are not significant enough to impact monetary policy, he said.
What Bloomberg Economics Says...

"We don't expect the BOT to start tightening monetary policy until 2H 2023, once the output gap is likely to have closed. Targeted quantitative easing ahead of its rates liftoff still can't be completely ruled out, especially if pandemic curbs drag far into next year or the yield curve starts to steepen too quickly and choke off the recovery."

Tamara Mast Henderson, Asean economist

To read the full note, click here
The pace of vaccinations in Thailand has accelerated in recent months, with 61% of the population receiving at least one dose and almost half getting two, setting the government on pace to beat its target of inoculating 70% of residents by year-end. New infections dropped to 6,978 on Wednesday, compared with its peak of more than 20,000 cases in August. 
Prayuth last month approved a slew of stimulus measures worth 92 billion baht ($2.8 billion) to reduce the cost of living, boost domestic consumption and support the economy. Covid-relief measures since last year have been financed by as much as 1.5 trillion baht borrowing packages. 
The central bank last month also temporarily suspended home-mortgage lending limits to revive the sluggish property market as part of its strategy to use targeted measures to help the economy instead of cutting rates.