Thai Oil Retailer Eyes China, India for Coffee Chain Expansion
(Bloomberg) -- Thailand's largest fuel retailer plans to open its coffee outlets in India and Indonesia and expand its footprint in China to lower its reliance on revenue from fossil fuels with the world increasingly embracing electric vehicles and renewable energy.
PTT Oil & Retail Business Pcl will increase the number of its Cafe Amazon outlets by 60% to 6,000 by 2025, according to Chief Executive Officer Jiraphon Kawswat. That will make it the world's fourth-largest coffee chain by the number of outlets, up from sixth currently, she said.
Focusing on countries with high growth potential and large populations will allow the unit of PTT Pcl, Thailand's most-valuable company, to beat the low single-digit growth that mirrors Thailand's gross domestic product in recent years, Jiraphon said. The global travel will likely return to pre-pandemic levels within three to five years, providing a further fillip to businesses that are dependent on tourism and consumption, she said.
The expansion is part of PTT Oil & Retail's "retailing beyond fuel" strategy, joining the ranks of global oil majors including Royal Dutch Shell Plc, Total SA and Eni SpA in ramping up investment in new ventures as investor pressure mounts to ditch traditional fossil-fuel businesses. The company plans to spend $650 million for its retail expansion, with the majority of that earmarked for Cafe Amazon, Jiraphon said.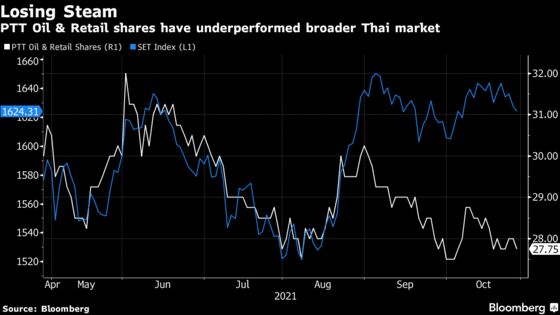 "Cafe Amazon is easier to expand than oil businesses," Jiraphon said in an interview on Tuesday. "Non-oil businesses are also generating a much higher margin and that's why we're focusing more on expanding retail operations."
The non-oil retail business will make up 35% of PTT Oil & Retail's earnings before interest, taxes, depreciation and amortization by 2025, compared to 28% contribution now, she said.
The company's coffee business expansion will also include doubling the capacity of its roasting plant to 10,000 tons per year to supply outlets in Thailand, and setting up its automated distribution center, a powder mixing plant and a bakery factory, Jiraphon said. Franchising of Cafe Amazon will also generate significant non-oil revenue for the company.
Cafe Amazon has grown to become Southeast Asia's largest franchise network with about 3,400 outlets in Thailand, and 350 outlets across 10 Asian markets including China, Japan, Malaysia and Singapore. With more than 3 million daily visitors at its service stations and coffee shops, PTT Oil & Retail sees opportunities to add more products and services, Jiraphon said.
"We're transforming the company," Jiraphon said. "Our businesses were once in the oil ecosystem, but we're now in the mobility ecosystem, so no matter what powers the car, we can be part of that."