Thai Junta Throws Money at Poor Northeast in Bid to Stop Thaksin
(Bloomberg) -- Deep in Thailand's rural northeast, home to the political base of exiled former Prime Minister Thaksin Shinawatra, rice farmers like Wassan Chaipanya are warming to the military junta that seized power in a 2014 coup.
Surveying his four-acre crop in Ubon Ratchathani, one of the region's biggest provinces, Wassan credits coup leader and current Prime Minister Prayuth Chan-Ocha for bringing peace and stabilizing grain prices. Rice subsidies and welfare cards introduced by the junta have helped buoy his 80,000 baht ($2,450) annual income, he said.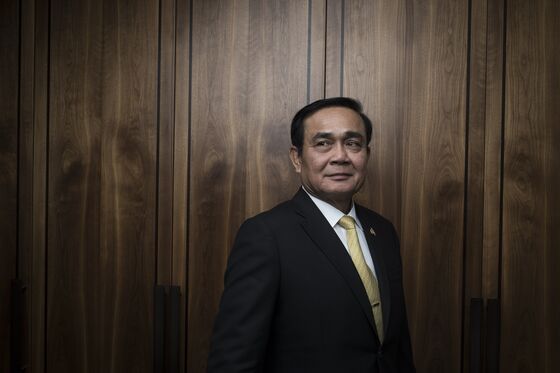 "Prayuth's government has been good to us," said Wassan, 39, who has voted for Thaksin-backed parties for the past two decades in a district that has consistently supported the exiled prime minister. Now, he said, his vote is up for grabs: "We'll have to see which party leaders run in the upcoming election."
Thailand's army-installed government has begun to focus on winning over the poor and populous northeast, which will be key to installing a friendly administration after an election that could come as early as Feb. 24. The region has helped Thaksin and his allies win the most seats in every national vote since 2001, setting up clashes with a Bangkok elite that has regularly used the military and courts to overturn the results.
Ubon Ratchathani is one place in the northeast where Thaksin's opponents have made inroads: In a 2007 election following a coup, his allies won only four of 11 seats in the province. During the last competitive vote in 2011, when the Thaksin-backed Pheu Thai party won an outright majority, the opposition Democrat Party still managed to win three seats in Ubon Ratchathani – more than its combined total in some 20 other northeastern provinces.
The junta has also had success in Ubon Ratchathani: It was one of five northeastern provinces that supported an army-backed constitution in a 2016 referendum.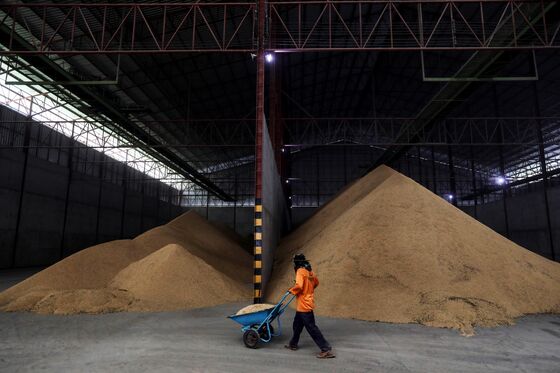 In July, Prayuth held a mobile cabinet meeting in the area to promote government plans to spend $3 billion on farmer aid and a range of proposed infrastructure projects. More recently, at least seven former Pheu Thai lawmakers have indicated they intend to defect to pro-junta parties.
"They see this as the way into Thaksin's stomping ground," Saowanee Alexander, a lecturer at Ubon Ratchathani University, said of the junta's strategy regarding the province. Still, she said his supporters aren't concerned that it will spark an anti-Thaksin wave across the Northeast: "If they're not worried about Ubon, I don't think they're worried elsewhere.''
Home to roughly a third of Thailand's 67 million people, the northeast – known as Isan – has an economy built around rice, rubber and cassava. For decades during and after the Vietnam War, the region was seen as a potential breeding ground for Communist plots to overthrow the monarchy.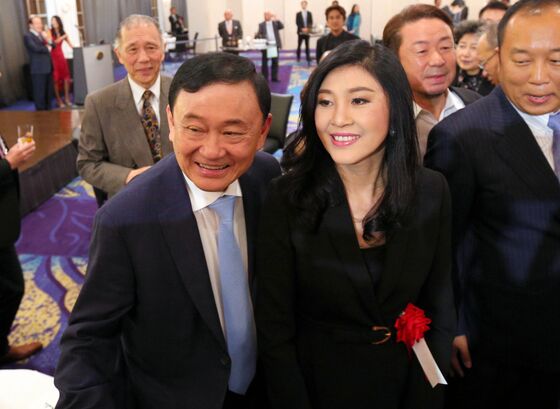 Thaksin, a telecom billionaire, used his wealth and populist policies such as guaranteed rice prices and cheap health care to unify the Northeast – creating a political powerhouse that his opponents have since struggled to crack. The military attacked these policies in justifying a 2014 coup against Yingluck Shinawatra, Thaksin's sister, accusing her of wasting government funds through buying rice from farmers at above-market prices. She later fled the country.
Still, to win over the poor, the junta has adopted a similar set of policies, including significant cash handouts, loans and subsidies to farmers to help stabilize rice prices. It has also been pro-investment, helping to strengthen the baht and lift the benchmark SET Index.
The junta's approach was more market-friendly and didn't lead to large stockpiles of rice, according to Sansern Kaewkamnerd, a government spokesman.
"We have programs to help farmers and help encourage them to diversify their crops and not put their whole lives into just one thing or oversupply the market during harvest seasons,'' he said. "We just don't blindly pay them large sums of money without taking into account the market situation or what kinds of crop they're growing.''
While Prayuth can't run directly in the next election, the former army chief this week said he's still interested in taking part in politics, but needs more time to study which party he would join. Under the new constitution, which favors smaller parties, he can stay on as prime minister if enough elected politicians back him along with the military-appointed Senate.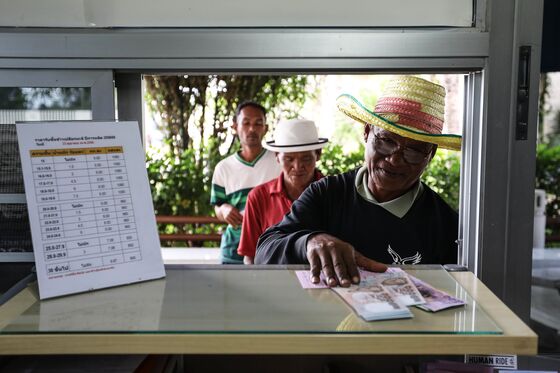 At least two political parties have openly expressed support for the junta and have sought to recruit former lawmakers aligned with Thaksin: Phalang Pracharat led by the developer of a floating market and Action Coalition for Thailand Party, backed by Suthep Thaugsuban, a former secretary-general of the Democrat Party. They are seeking to win over voters in the northeast, along with the Democrat Party – which has consistently retained seats in Ubon Ratchathani.
"This is the one province where we have been able to retain some seats, even in years where we have suffered big defeats nationally," said Abhisit Vejjajiva, the Democrat party leader who became prime minister from 2008 to 2011 after a court disbanded the ruling pro-Thaksin party. "It will be a heavily contested area."
Also in the mix is the upstart Future Forward party led by former business executive Thanathorn Juangroongruangkit, whose strong statements opposing military rule are starting to resonate in the northeast.
"Thanathorn is the new generation," said Khamphong Thephakham, 57, who holds a senior administrative position in the Ubon Ratchathani provincial government. "He's a fast thinker, he has experience in managing a large business, and he wants equality and justice in Thai society. He is the future of Thailand in the new era."
Khamphong plans to vote for Future Forward this time even after supporting the Thaksin-backed Pheu Thai for many years. Still, he expects Pheu Thai to win the most seats in the election because Thaksin retains the loyalty of most voters in Isan.
Pheu Thai is confident of its grip on the Northeast due to its track record of implementing policies that meet the needs of voters and pushing for democracy, according to Chaturon Chaisang, one of its most prominent members.
"We consider the Northeast to be our stronghold," Chaturon said.
That confidence comes from voters like Thithinan Jariwatkongkit, who owns a guest house in Ubon Ratchathani that provides accommodation for as many as 50 students.
Rattling off a list of Thaksin-era programs, she said the former leader narrowed the vast gap between Thailand's rich and poor. Under the military, she said, feelings of class separation have grown stronger.
"Thaksin instilled confidence in my heart," said Thithinan, 56. "Me and my friends are all loyal to Pheu Thai."