Thailand's Budget Disarray Casts Doubt on Economic Recovery
(Bloomberg) -- Disarray over Thailand's delayed annual budget threatens to snuff out expectations of an economic recovery this year after a sharp slowdown.
The latest blow came Thursday when a court was asked to rule on the validity of the parliamentary vote in favor of the 3.2 trillion baht ($105 billion) spending plan. The judicial process could take months, Prime Minister Prayuth Chan-Ocha said, prolonging a hold up in outlays that were supposed to start October last year.
While officials can still keep spending some of the money to fund wages and existing projects until the bill becomes law, they will hit their ceiling by March and rules must be changed to free up more of the cash. The mess is another obstacle for an economy already reeling from a strong currency.
"We're concerned about the long-term impact, particularly on investment," said Somprawin Manprasert, chief economist at Bank of Ayudhya Pcl in Bangkok. "The most important thing for investment is confidence. Without that, people won't invest despite low borrowing costs or attractive incentives."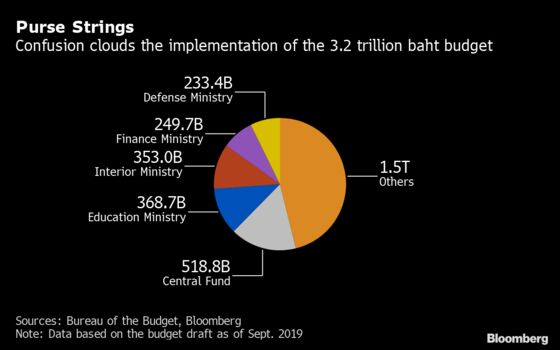 The Bank of Thailand estimates the tourism- and trade-reliant economy may expand 2.8% this year, up from a five-year-low of 2.5% in 2019. But those predictions predate the latest budget setback, as well as the emergence of the novel coronavirus from China, which poses a risk to the tourism sector.
Bank of Ayudhya is less optimistic than the monetary authority, forecasting 2.5% growth in 2020. Tourism and state spending were seen as key drivers this year, but both now face risks, Somprawin said.
Construction firms are among those most exposed to what could be a further three-month hold up in the budget, Yuanta Securities (Thailand) Pcl said. The SET Construction Services index has dropped more than 5% this week, making it the second-worst performing industry group on the Thai stock exchange.
"Optimism that large projects will be rolled out quickly could evaporate," said Padon Vannarat, an investment strategist at the Bangkok-based brokerage.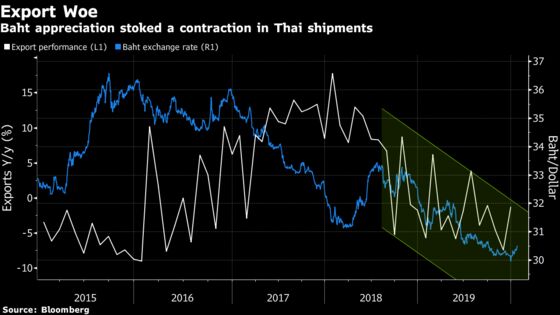 Implementation of the budget was delayed by government formation and the legislative process after March's disputed general election. Parliament passed the bill earlier this month but allegations emerged this week that some legislators who supposedly voted weren't actually present.
A government shutdown because of a lack of funds is unlikely as officials are working on contingency plans, Finance Minister Uttama Savanayana said Friday.
Prayuth led a 2014 military coup and the subsequent junta that ruled for five years. He returned as premier after the poll at the head of a military-backed ruling coalition with a slim majority in the lower house.
The confusion over the budget comes at a sensitive time. Anti-government protests have intensified in recent weeks, with demonstrators calling for more political freedom and economic opportunities.