Thai Agriculture Reels From Drought in Blow to Ailing Economy
(Bloomberg) -- Thailand is scaling back production forecasts for key agricultural commodities because of a drought, dealing a further blow to the country's struggling economy.
Rice, rubber and sugar are among the crops that help to sustain 11 million jobs, drive consumption and color the political mood of the rural population. But farmers are now grappling with the worst drought in four decades.
The farm sector's woes come on top of a tourism slump sparked by the novel coronavirus outbreak and a prolonged delay in government budget spending. These challenges have led some analysts to raise the specter of recession in Southeast Asia's second-largest economy.
"The drought situation is intensifying," said Surapong Sarapa, head of forecasting at the Thai Meteorological Department, adding that little rain is expected at least through July.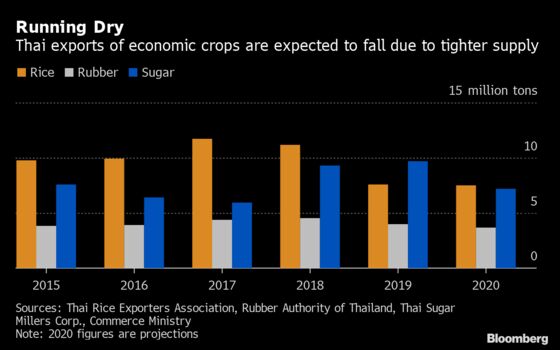 The impact will be felt not just in agriculture but also in industry, according to Bank of Ayudhya Pcl, a Thai unit of Mitsubishi UFJ Financial Group.
If the drought lasts until July, it could cost the economy 57.6 billion baht ($1.9 billion), equivalent to about 0.34% of gross domestic product, the bank's Chief Economist Somprawin Manprasert said.
Rice shipments are heading for the worst year since 2013, and the nation could lose its ranking as the world's second-biggest exporter depending on the severity of the situation, according to the Thai Rice Exporters Association.
The trade body expects 7.5 million tons of exports in 2020, down from about 7.6 million tons a year earlier, when a strong baht hurt the competitiveness of Thai produce.
Hot and dry weather is threatening many of Thailand's rubber trees. Parts of the country are also battling a fungus blight.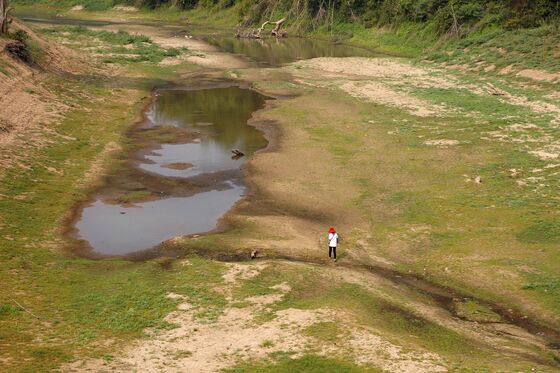 "Prolonged drought will definitely cut rubber production this year, and extreme dryness could kill younger trees," said Kajohnjak Nuanphromsakul, acting governor of the Rubber Authority of Thailand.
Kajohnjak predicts rubber output of 4.4 million tons in 2020 -- compared with an annual average of 4.8 million tons -- and exports of about 3.7 million tons.
Sugar output may tumble roughly 30% to 9 million tons to 10 million tons, while cane output is forecast to fall below 90 million tons from about 130 million tons in the previous season, according to the Thai Sugar Millers Corp.
"This will likely be our worst season in five years," Sirivuthi Siamphakdee, the millers' vice chairman, said last week. "It's worse than we thought."
Raw-sugar futures have jumped more than 12% in 2020 as the deteriorating Thai crop outlook adds to a bigger-than-expected world supply deficit.