Texas Lawmakers to Rule on $16 Billion Blackout Pricing
(Bloomberg) -- The financial crisis threatening Texas's power market is in the hands of lawmakers after Governor Greg Abbott asked them to rule on rescinding $16 billion in overcharges during last month's blackouts.
The Republican governor ordered legislators to debate whether state regulators should direct the region's grid operator to retroactively adjust prices to correct the overcharges highlighted by an independent monitor. It comes after regulators declined to reverse the charges themselves.
Rolling back the power prices would ease the financial squeeze on companies facing astronomical bills in the wake of the energy crisis that left millions of people in the dark and dozens dead during a historic winter storm. The state's power market faces a $2.4 billion shortfall and at least two electric companies have filed for bankruptcy.
"Correcting this $16 billion error will require an adjustment, but it is the right thing to do," Texas Lieutenant Governor Dan Patrick said in a statement posted on his website. "It will ultimately benefit consumers and is one important step we can take now to begin to fix what went wrong in the storm."
Lawmakers scheduled hearings on the matter for Thursday.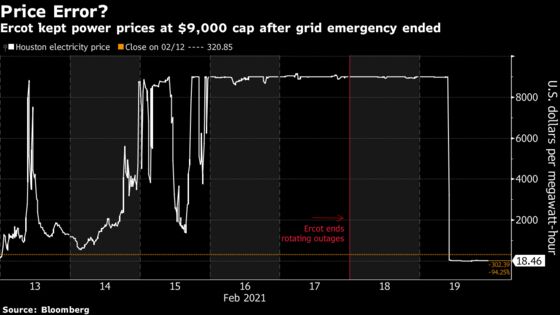 Most of the Texas Senate expressed support for reversing the charges as well. On Tuesday, 28 senators including Republicans and Democrats sent a letter to the Public Utility Commission of Texas asking the agency to order the state grid operator to correct the prices.
"These billing corrections are a critical step in the significant reforms which we are undertaking," the senators wrote.
Arthur D'Andrea, chairman of the Public Utility Commission of Texas, said during a private call with Bank of America utility analysts on Tuesday that he wasn't going to change his mind regarding his decision not to reverse the charges, according to people familiar with the matter.
As the mid-February storm knocked almost half of Texas's power generation offline, the state's grid operator set the price of electricity at the $9,000-a-megawatt-hour maximum. That's standard practice during an emergency. But the grid operator -- the Electric Reliability Council of Texas, or Ercot -- left that price in place days longer than necessary, resulting in massive overcharges, according to Potomac Economics, an independent market monitor hired by the state to assess Ercot's performance.
In an unusual move, the firm last week urged regulators to reverse the $16 billion in excessive charges. But regulators declined.
"Decisions were made about these prices in real time based, on information available to everybody," Arthur D'Andrea, chair of the Public Utility Commission of Texas, said during a March 5 meeting. "It is nearly impossible to unscramble this sort of egg."
Texas's biggest power generators have generally opposed any kind of repricing, saying it could discourage future electricity-market investments.
"We believe repricing would be a serious mistake harming consumers and the confidence of capital markets in the rule of law in Texas," said Brett Kerr, a spokesman for generator Calpine.
Yet some retail electricity providers that racked up huge bills in the crisis are eager for relief.
On Tuesday, Just Energy Group Inc. a Canadian retail energy seller that serves Texas, filed for court protection in Canada and bankruptcy in the U.S. after suffering crushing losses in the blackouts. Its U.S.-traded shares plummeted as much as 74% Wednesday, and trading was briefly halted.
Rayburn Country Electric Cooperative, a non-profit generation and transmission cooperative that serves northeast Texas, is expecting $735 million in invoices from Ercot and says its customers can't afford to pay. The cooperative has declared force majeure, Chief Executive Officer David Naylor said in a telephone interview late Tuesday. "We are looking at all of our options," he said.
The handling of the crisis has already prompted the exits of a number of key officials, including Ercot's Chief Executive Officer Bill Magness.