Texas Instruments' Forecast Points to Ebbing Tech Spending Binge
(Bloomberg) -- Texas Instruments Inc., whose chips are in most electronic devices, gave investors the first solid piece of evidence that a multiyear technology spending binge may be ending.
The company said late Tuesday that demand is slowing across most of its markets and predicted its biggest sequential decline in revenue since 2012. That led analysts to conclude the trade war between the U.S. and China is beginning to bite.
China is the biggest market for semiconductors, while the U.S. is home to the dominant chipmakers, so the industry is particularly vulnerable to any disruption to the flow of products and money between the two countries.
Texas Instruments said its products aren't directly affected by tariffs and it doesn't yet know whether the spat is hurting overall demand for electronics. Chief Financial Officer Rafael Lizardi said other companies will have to report and add to the picture before the sources of the slowdown become clear.
"Demand is slowing across most markets," he said in an interview. "What we're trying to figure out is, is it just the semiconductor cycle or on top of that do we have end-demand slowing because of macro issues? We don't know."
Investors didn't wait to find out, sending Texas Instruments stock down as much as 7 percent on Wednesday, the most since January. The company's outlook also hit other chip stocks, exacerbating a recent sector rout. Investors view Texas Instruments as a broader economic barometer because the company has the largest customer list and widest product range in the $400 billion semiconductor industry.
Businesses have no incentive to stock up on electronic components because they're uncertain they will be able to use the products, said Tore Svanberg, an analyst at Stifel Nicolaus & Co.
"There was some slowdown related to tariffs in certain areas, and subsequently it's spread to everything," he said. "Demand will be impacted somehow by these tariffs."
Anxieties about a sales slowdown in the industry already erased more than 10 percent from the benchmark Philadelphia Semiconductor Index in October, putting it on track for the biggest monthly decline since May 2012. European chipmaker STMicroelectronics NV added to the gloom after forecasting lower profitability on rising pricing pressure.
Until a few months ago, the semiconductor sector was on a tear. Artificial intelligence and the rise of cloud computing created new sources of revenue growth. Demand was also buoyed as more electronic functions were added to industrial equipment and cars. The latter trend drove a two-year expansion of Texas Instruments' revenue. That cycle now appears to be over -- if the company comes in at the lower end of its predicted fourth-quarter revenue range, it would post its first year-over-year sales decline since the first quarter of 2016.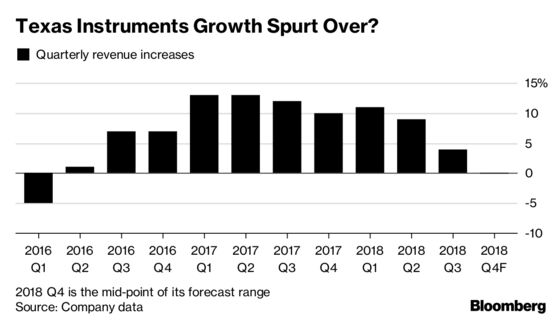 If needed, the company plans to slow production to avoid a buildup of inventory, which is currently within normal levels. Investors should expect some accumulation of unsold parts, but only in areas where chips have a long life span and can be sold years after they've been manufactured, Lizardi said. Spending on research and development won't slow down, and the company plans to go ahead with a new plant that uses better production technology.
The company's analog chips perform the fundamental task of translating real-world inputs, like sounds and touch, into electronic signals. Unlike Intel Corp. and Qualcomm Inc., it doesn't make chips that cost tens of millions of dollars to develop and then quickly become obsolete, meaning Texas Instruments is less vulnerable to sudden swings in demand or competitive pressure.