Texas Instruments Earnings Are Next Test for Tumbling Semis
(Bloomberg) -- With semiconductor stocks in retreat, Texas Instruments Inc.'s earnings report on Tuesday will be among the most closely watched for clues about demand for chips used across a broad spectrum of products.
The world's largest maker of analog chips is expected to report third-quarter revenue of $4.3 billion, a 4.4 percent increase from the same period a year ago, according to the average estimate of analysts surveyed by Bloomberg. Wall Street expects growth to accelerate to 6.7 percent in the fourth quarter before moderating in 2019.
With its components found in everything from consumer electronics to refrigerators and lawn mowers, Texas Instruments' forecast will be "key in terms of helping to answer the 'semi cycle question,'" Rosenblatt Securities analyst Hans Mosesmann wrote in a research note.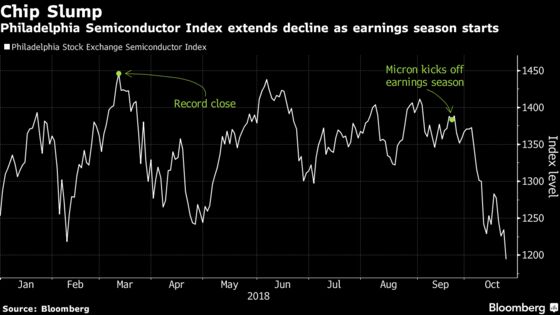 The Philadelphia Semiconductor Index has fallen about 13 percent this month and is down 17 percent from its record high in March. So far, five of the gauge's 30 members have reported quarterly results. Better-than-expected profits from four of them, including semiconductor-equipment maker Lam Research Corp. and memory chipmaker Micron Technology Inc., failed to spark much optimism for the group.
Texas Instruments fell 3.8 percent at 9:45 a.m. in New York amid a broad market slump. Here's what analysts are saying ahead of its results:
Rosenblatt, Hans Mosesmann
Fourth-quarter forecast will probably be tempered by weakness in China industrial and automotive demand.
Texas Instruments' forecast will probably reflect Taiwan Semiconductor's indication last week that the industry is in the midst of a "modest inventory correction" with a return to 5 percent to 10 percent growth in 2019.
Bloomberg Intelligence, Anand Srinivasan
"Macro weakness in Texas Instruments' key end-markets -- industrials and autos -- remains the risk for this consistent performer with exposure to sectors characterized by steady growth and long lead times."
"Chip-content expansion, not device-shipment growth, remains the key sales driver."
Craig Ellis, B. Riley FBR
Expect Texas Instruments' third-quarter results and fourth-quarter projections to meet Wall Street's estimates.
A recent rise in supply chain inventory elevates end-of-year destocking risk and the potential for "trade friction-induced" could make the issue worse.
Morgan Stanley, Joseph Moore
Semiconductor sentiment "has become very negative as investor fears about a semi downturn grow."
There could be "modest downside" to Texas Instruments' fourth-quarter consensus estimates.
"Similar to peers, as of late in the quarter fundamentals still sounded OK, but upstream weakness from industrials and auto customers -- where TI has been growing by more than 20 percent -- seems fairly clear, and we would expect that TI is aware of those concerns and even if they see only mild deceleration in their own business, we would expect them to proceed cautiously."
"Investors will look at TXN print for signs of how the ongoing macro slowdown (Industrial/Auto) may impact the broader semiconductor names."
Texas Instruments will probably report third-quarter results that are in line with expectations, while the quarterly forecast may fall "modestly" below consensus estimates.
Key topics include demand trends in automotive, inventory levels given cycle concerns, sustainability of industrial demand and gross margins.
3Q revenue estimate $4.30 billion (range $4.28 billion to $4.44 billion); forecast on July 24 of $4.11 billion to $4.45 billion
3Q GAAP EPS estimate $1.53 (range $1.52 to $1.59); forecast $1.41-$1.63
3Q gross margin estimate 65.6%
4Q revenue estimate $4 billion (range $3.87 billion to $4.15 billion)
4Q GAAP EPS estimate $1.38 (range $1.31 to $1.46)
16 buys, 19 holds, 1 sell
Average price target $119.97 (25 percent upside from current price)
Implied 1-day share move following earnings: 4.8 percent
Shares rose after 6 of prior 12 earnings announcements
GAAP EPS beat estimates in 12 of past 12 quarters
Shares down 7.7 percent year to date versus S&P 500 Index down 4.2 percent
Earnings release expected 4:01 p.m. New York time Oct. 23
Call 4:30 p.m.; (323) 994-2083, password: 4250398