Biden Calls for Unity; California Shatters Record: Virus Update
(Bloomberg) -- Infection rates are accelerating in the U.S. Southwest and Rocky Mountain West after sweeping through middle of the country. A growing number of hospitals canceled or delayed some planned medical procedures to preserve staff and beds.
U.S. airline traffic rose as some Americans traveled for Thanksgiving despite warnings from health officials. The death toll in U.S. nursing homes and long-term care facilities topped 100,000. New York state exceeded 6,000 daily cases for the first time since April, while California recorded more than 18,000 new infections, a record.
Globally, cases topped 60 million. German Chancellor Angela Merkel extended a partial lockdown for at least three weeks as Europe's biggest economy struggles to regain control of the virus.
Subscribe to a daily update on the virus from Bloomberg's Prognosis team here. Click CVID on the terminal for global data on coronavirus cases and deaths.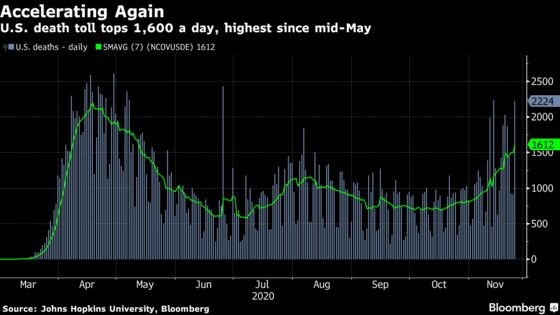 Biden Calls for Unity in Virus Fight (4:20 p.m. NY)
President-elect Joe Biden called on Americans to unite in the face of a "long, hard winter," using a Thanksgiving address to the nation to grieve for those lost to the coronavirus pandemic and promise that the nation would beat it in the new year.
"We have fought a nearly yearlong battle with a virus in this nation. It's brought us pain and loss and frustration, and it has cost so many lives: 260,000 Americans -- and counting," he said in a speech in Wilmington, Delaware.
Biden went on to draw an implicit contrast with President Donald Trump by calling for a different approach to combating Covid-19. "It has divided us. Angered us. And set us against one another," he said. "I know the country has grown weary of the fight. But we need to remember we're at a war with a virus -- not with each other."
Germany Extends Curbs at Least Three Weeks (4 p.m. NY)
Chancellor Angela Merkel extended a partial lockdown for at least three weeks, to just before Christmas.
Europe's largest economy tightened limits on private gatherings but kept schools and most businesses operating under a deal hashed out by Merkel and the leaders of Germany's 16 states on Wednesday. The restrictions -- slated to expire at the end of November -- will run until Dec. 20 and will likely be extended into January unless there's an unexpectedly rapid decline in contagion rates.
With infection rates surging, German officials this month ordered the closing of restaurants, gyms and cinemas. Nations like France and Britain imposed tougher restrictions, and with outbreaks there easing, officials are cautiously moving to loosen curbs ahead of the Christmas holidays.
California Shatters Daily Record (2:40 p.m. NY)
California reported 18,350 new virus cases, shattering the daily record of 15,442 set over the weekend. The 14-day average rate of positive tests climbed to 5.9%, a three-month high and up 2 percentage points from just two weeks ago.
The most-populous state is grappling with a virus resurgence that is spreading at a faster pace than at any point in the pandemic. Hospitalizations spiked 5.8% Tuesday to a total of 7,049, according to the state health department, and have more than doubled since the start of the month. Health Secretary Mark Ghaly warned on Tuesday that hospitalizations and deaths, which trail infections by two to three weeks, are poised to surge further as cases accelerate.
N.J. Changes Quarantine Policy as Cases Climb (1:55 p.m. NY)
New Jersey has stopped advising 14-day quarantines of visitors and residents returning from U.S. hot spots. The policy, started in June and put into effect by New York and Connecticut as well, relied on voluntary compliance. But as cases and positivity grew, all save for a few states landed on the list. By mid-October, New Jersey, amid its second wave, achieved the three states' definition of a hot spot.
Governor Phil Murphy in a statement said New Jersey no longer will use "previously outlined metrics to inform its travel advisory." The state continues to discourage non-essential travel and intends to issue a new policy, he said. New Jersey on Wednesday reported 50 lab-confirmed novel coronavirus deaths, the most since June 5. So far this week the state has logged 16,046 new cases.
New York on Nov. 4 started allowing people to test and isolate for just three days. Connecticut on Tuesday listed 48 states and territories still subject to the quarantine rule.
France's Pace of New Cases Falls to 6-Week Low (1:50 p.m. NY)
France registered 16,282 new confirmed Covid cases on Wednesday, health authorities reported. The seven-day average of infections, which smooths out swings in cases over the course of a week, fell to 14,994, the lowest since Oct. 9. The share of positive tests fell to 13%, compared with close to 21% at the start of November. Both hospitalizations and the number of patients in intensive-care units continued to fall from the second wave's peak on Nov. 16. Deaths linked to the virus rose by 381 to 50,618.
The report follows President Emmanuel Macron's announcement on Tuesday that France will start relaxing its lockdown measures on Saturday, and lift most of them in mid-December if numbers for cases and ICU patients continue to improve.
Turkey Changes Reporting Method After Outcry (1:10 p.m. NY)
Turkey changed its reporting method for Covid-19 cases after Health Minister Fahrettin Koca came under increasing criticism for not fully disclosing the number of people who test positive for the virus, much like the rest of the world does.
Turkey reported 28,351 new coronavirus cases on Wednesday, Koca said in televised press conference. The total death from the virus rose by 168 to 12,840.
Turkey's opposition parties and medical associations have been criticizing the minister for portraying a rosy outlook and the government for prioritizing economic gains over the lives of people. The change also came after the surge in new symptomatic "patients" more than doubled this week compared with the previous one. That was a pace unseen since the early stages of the pandemic in Turkey.
In related news, the country signed a deal with China's Sinovac for 50 million doses of vaccines, the minister said.
N.Y. Sees Most New Cases Since April (11:45 a.m. NY)
New York state said there were 6,265 new coronavirus cases on Tuesday, the highest since April 24, when there were 10,553 new infections. Governor Andrew Cuomo reported the numbers at a briefing in Rochester. The overall positive testing rate was 3.62%.
There were 2,982 hospitalizations and 41 deaths on Tuesday, according to state data.
NYC Hospital Use Rising, Mayor Says (11:05 a.m. NY)
New York City's hospitalizations are on the upswing. Daily admissions for Covid-like symptoms totaled 141 on Nov. 23, the highest in weeks. Of those, 45% tested positive for the novel coronavirus. The seven-day average of total hospitalizations is 647, up 38% from a weekly average of 469 over the last four weeks.
Covid-19 "is bearing down on us, more every day," Mayor Bill de Blasio said Wednesday at a virus press briefing.
State data show total hospitalizations for New York City at 931 on Nov. 22, more than double the number on Nov. 1. At the height of the outbreak in April, more than 12,000 were hospitalized for Covid.
The city's daily positive test rate as of Nov. 23 was 3.05%, little changed from the day before. The city has performed more than 1 million tests since March, which is "making a huge difference" in fighting back the second wave, de Blasio said.
New York City schools were closed Nov. 19 when the citywide average positive test rate reached a 3% trigger. De Blasio said he will present a plan next week for bringing students back to school. The plan will include phases of return and more frequent testing, he said.
Geneva Restaurants to Reopen (11 a.m. NY)
Geneva, Lausanne and other areas in francophone Switzerland will reopen restaurants on Dec. 10, according to a joint statement. The region suffered some of Europe's highest Covid-19 infection rates, and municipalities took various steps to stem the spread of the disease. In Geneva, stores deemed non-essential will reopen already on Nov. 28.
Italy PM Doesn't Want Cross-Border Ski Curbs (10:35 a.m. NY)
Italian Prime Minister Giuseppe Conte said he doesn't want to impose curbs on cross-border travel during the Christmas skiing season, as he pushes for coordinated European action to prevent an upturn in coronavirus contagion.
Conte told reporters in Palma de Mallorca after talks with his Spanish counterpart, Pedro Sanchez, that he wants "some restrictive measures," especially for ski resorts.
"We don't want to limit cross-border transfers; this is not the issue," Conte said. He added that he is seeking to avert the prospect of mass cross-border travel without provisions for controls such as virus tests for returning travelers.
U.S. Surpasses 100,000 Nursing Home Deaths (10 a.m. NY)
Covid-19 has killed more than 100,000 residents and staff of nursing homes and long-term care facilities in the U.S., according to a report Wednesday from the Kaiser Family Foundation.
The U.S. passed the grim milestone on Tuesday, based on reports from across the country, the foundation said. Deaths in long-term care facilities have accounted for 40% of all Covid-19 deaths nationwide, according to the report.
The Kaiser Family Foundation is a nonprofit that focuses health issues.
U.S. Airline Traffic Rises 16% (9:20 a.m. NY)
Airline passenger numbers in the U.S. totaled 912,090 on Nov. 24, compared with 2.44 million the same weekday a year earlier, according to the Transportation Security Administration. Average daily passenger numbers rose 16% from the previous week.
Austrian Nationalists Encourage Skipping Tests (8 a.m. NY)
Austria's nationalist Freedom Party, seizing on discontent over restrictive virus measures, attempted to undermine a mass-testing campaign before the holidays.
"If you want to celebrate Christmas in peace and visit family, don't test," the party said Wednesday. Chancellor Sebastian Kurz, who governed with the group until last year, said the call was "deeply irresponsible." The tests planned by the Austrian government will take place on the weekends before Christmas. The goal is to test as many people as possible, although they won't be mandatory.
Iran Cases Break Record for Second Day (6:24 a.m. NY)
Iran reported a new record for daily infections for a second day in a row, pushing the number of total known cases to 894,385. The death toll reached 46,207 with 469 more deaths in the last 24 hours, down from a day earlier.
Hospitals Cancel Surgeries to Preserve Staff (6 a.m. NY)
A growing number of hospitals around the U.S. canceled or delayed some planned medical procedures to preserve staff and beds for a surging number of Americans sick with Covid-19.
Conditions remain especially acute in the Midwest and West. From Illinois to Idaho, health systems are limiting non-emergency surgeries as the pandemic'sstrain on personnel grows. Putting off planned procedures that patients can defer safely is one of the few levers hospitals have to adjust their capacity as the virus spreads unchecked.