Teva's Worst Week of 2018 Prompts Goldman to Defend Stock
(Bloomberg) -- Teva Pharmaceutical Industries Ltd had its worst week this year after two analysts cautioned on the generic drugmaker -- but Goldman Sachs is doubling down.
Goldman analyst Jami Rubin added buy-rated Teva to her conviction list and called last week's sell-off "a head scratcher" but a good chance for investors to buy. Concerns arose after Bernstein warned on U.S. generics, Morgan Stanley lowered estimates on Teva for the rest of the year and a new Eli Lilly & Co. migraine drug was approved.
But Rubin said those worries are "not thesis changing and well understood." Management commentary around the second half are "modeling corrections, not downward revisions," she write in a note to clients.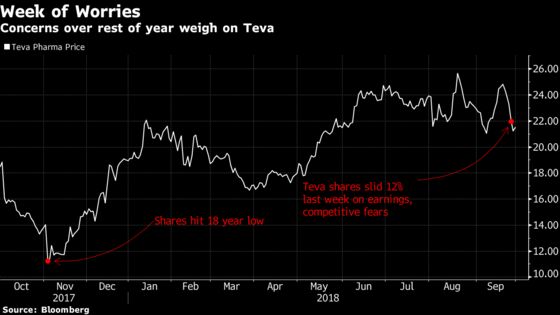 Investors may be ignoring the progress Teva has made with the approval of its migraine therapy as well as securing generics of Cialis and Epipen. The drugmaker has had "near-perfect execution" since Kare Schultz took over as chief executive officer last year.
Another analyst, Leerink's Ami Fadia, who had recommended selling Teva, upgraded the stock to market perform, citing improving fundamentals and a slightly better outlook for the U.S. generic sector. But Fadia remains cautious, saying "it's only a matter of time before meaningful generic competition hits Copaxone and ProAir," and she struggles to see U.S. generic growth.
Third quarter results won't be tied to Teva's success but expectations are appropriate, Rubin said. Shares were little changed at 10:33 a.m in New York.