Teva Falls as Sales of Copaxone Decline Faster Than Expected
(Bloomberg) -- Teva Pharmaceutical Industries Ltd.'s shares fell as sales of Copaxone, the company's aging multiple sclerosis treatment, dropped faster than expected.
That leaves Teva, the leader in a generic drug market grappling with plunging prices, to rely on sales of new branded medications to make up some of the shortfall. While quarterly earnings beat analysts' estimates, the shares fell as much as 6.4 percent in New York.
When Chief Executive Officer Kare Schultz took over in November 2017, Teva was struggling to survive. The world's largest producer of knockoff medicines was crushed under enormous debt, and its ability to repay those loans was diminishing with its long-time cash cow -- the multiple sclerosis drug Copaxone -- fading against cheaper competition.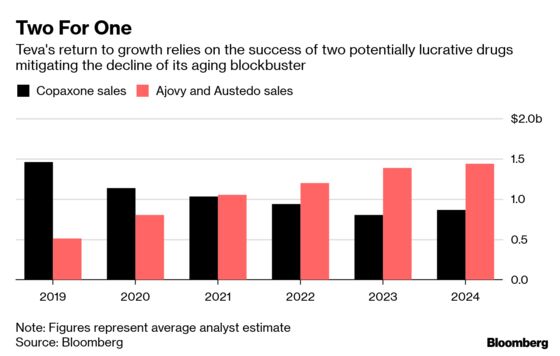 Teva's fundamental problems remain: Debt still dwarfs the value of the company, while first-quarter sales of Copaxone, which at one point accounted for a fifth of overall revenue, missed estimates at $208 million. Sales of generic drugs in North America, which account for roughly a quarter of company revenue, fell 11 percent in the quarter.
And though analysts were encouraged by the performance of its new drugs, Ajovy for migraine headaches and Austedo for Huntington's disease, investors remained skeptical of the overall picture. "We continue to look for signs of greater top-line growth to supplement the expected cost reductions and get us more enthusiastic" about Teva, wrote Credit Suisse analyst Vamil Divan.
Still, some of Schultz's designs are bearing fruit. Analysts have said that the ascent of Teva's twin potential blockbusters ought to mitigate the decline of Copaxone. Teva has cut $2.5 billion of costs since Schultz took over, closing in on the target he set for the company for the end of the year. And Schultz has said that the market for knockoff medicines is stabilizing after years of narrowing profit margins.
"Teva's rehabilitation remains on track," Raymond James analyst Elliot Wilbur wrote in a note to clients. "While the Copaxone cash will be missed, if markets were worried Teva couldn't make numbers if the bottom fell out of Copaxone, that question is answered."
Profit excluding some costs was 60 cents a share, aided by sales of the new drugs, according to a statement Thursday from the Israeli drugmaker.