Tesla Is Exciting Again, But for the Wrong Reasons
(Bloomberg Opinion) -- Tesla Inc. hasn't offered a ride this wild in almost five years.
Volatility in the electric carmaker's stock has been rising since the spring, but really spiked in the past month or so. Relative to the Nasdaq Composite, it's back at levels last seen in early 2014: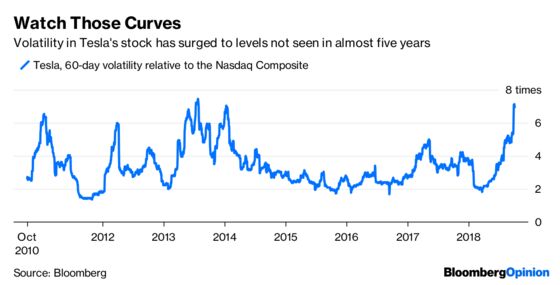 The reasons, however, are entirely different. Back then, there was a frenzy of excitement about the Model S sedan, which had scored plaudit after plaudit in 2013. Wall Street analysts began to raise their target prices by multiples, and the stock went from less than $50 in April 2013 to more than $250 by the following March.
For much of the period since then, apart from a surge in early 2017 centered on the imminent launch of the Model 3, the stock has tended to trade sideways, with volatility easing.
The current excitement, unfortunately, doesn't center on the cars. Rather, the antics of CEO Elon Musk now provide regular jolts, the latest being Thursday night's unforced error of taunting tweets against the Securities and Exchange Commission less than a week after reaching a provisional settlement over — what else? — other tweets. The stock duly took another lurch lower on Friday morning, down 4.5 percent. Nearly all of Monday's 17 percent relief rally on the back of that settlement has now been erased. The only thing Tesla's disrupting right now is investors' sleep.
This column does not necessarily reflect the opinion of the editorial board or Bloomberg LP and its owners.
Liam Denning is a Bloomberg Opinion columnist covering energy, mining and commodities. He previously was editor of the Wall Street Journal's Heard on the Street column and wrote for the Financial Times' Lex column. He was also an investment banker.