Tesla Profit Benefits From Some Extra Credit
(Bloomberg Opinion) -- Tesla Inc.'s quarterly SEC filing has arrived. And while there is much to read through, one thing that usually emerges quickly from these documents is exactly how much revenue was made from regulatory credits.
To recap, Tesla gets these credits for selling electric vehicles and then sells them to other carmakers that manufacture traditional cars. The pattern of revenue from these credits is unpredictable; although, as I laid out here, they have proved crucial at various points to helping Tesla limit losses or beat analyst forecasts.
In its earnings release, Tesla tells investors how much it made from selling zero-emission vehicle, or ZEV, credits. Last quarter, they brought in $52 million. But ZEVs aren't the only type of regulatory credit Tesla gets in the course of selling cars. And while that is the figure reported in the earnings announcement, the SEC filing shows it sold another $137.5 million worth of other credits.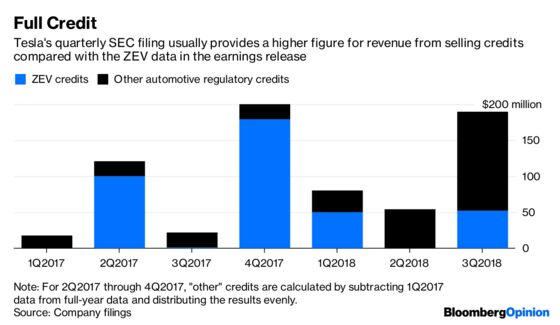 Because these credits are effectively pure profit, they can move the needle on overall margins quite a bit. One of the surprises in Tesla's earnings release last week was its headline gross profit margin on automotive sales of more than 25 percent. Backing out the ZEV credits shaved 0.6 of a point off that — interesting but hardly earth shattering. Backing out the full regulatory credits, though, takes off almost 2.5 percentage points.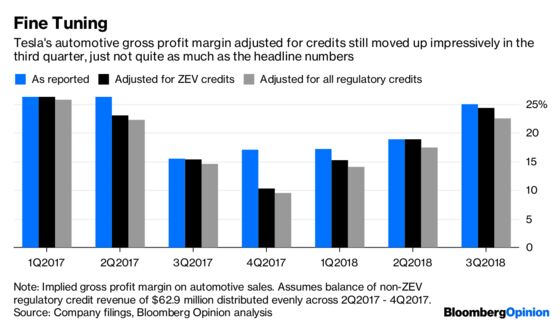 The five-point jump in gross margins even after backing out the credits is still a big improvement for Tesla and continues the progress seen from the trough in the last quarter of 2017. Still, they remain important further down the P&L statement. For example, I estimate a figure for pre-tax profit on each vehicle sold, incorporating cost of goods sold but also deductions for research and development, sales, general and administrative charges, net interest and other costs in proportion to the automotive business' share of total revenue. On that basis, Tesla flipped from an implied pre-tax loss of about $10,800 per vehicle in the second quarter to a profit of almost $5,500. Yet, treating the regulatory credits as profit, they accounted for about 40 percent of that figure.
The true picture of the credits doesn't change the evident improvement in Tesla's numbers in the third quarter. Rather, their role in enhancing the margins merely serves to re-emphasize the message I took from last week's earnings release. That is, given Tesla's extremely high valuation — 121 times 2019 estimated GAAP earnings, currently — the company needs to show it can sustain such progress to come close to justifying it. As a side note, given the big improvement in the underlying numbers, why not just show the full picture on credits in the earnings release?
This column does not necessarily reflect the opinion of the editorial board or Bloomberg LP and its owners.
Liam Denning is a Bloomberg Opinion columnist covering energy, mining and commodities. He previously was editor of the Wall Street Journal's Heard on the Street column and wrote for the Financial Times' Lex column. He was also an investment banker.