Tesla Trails Only MicroStrategy in Treasury Bitcoin Allocation
(Bloomberg) -- Tesla Inc.'s announcement that it invested $1.5 billion in Bitcoin has made the electric automaker the second largest publicly-traded corporate holder of the digital currency, according to data from bitcointreasuries.org.
"We expect to begin accepting Bitcoin as a form of payment for our products in the near future, subject to applicable laws and initially on a limited basis," Tesla said in a securities filing.
The Palo Alto, California-based manufacturer trails only Michael Saylor's MicroStrategy Inc. with its $3.1 billion hoard of Bitcoin. Saylor, who has been an outspoken proselytizer for Bitcoin, held a webinar earlier this month in which he said over 1,400 firms signed up for the session on legal considerations of holding the digital currency.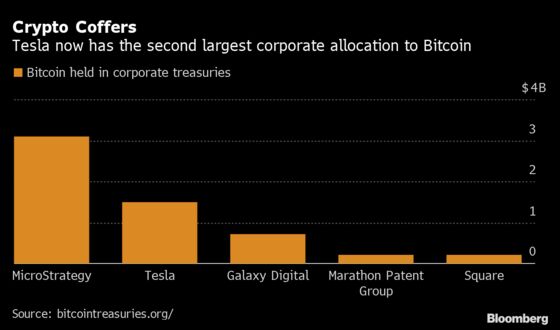 "If your company has money on its balance sheets and it's sitting in fiat currencies like euros and dollars, they are losing about 15% of their purchasing power each year," Saylor said at the virtual summit that attracted industry participants from at least 16 countries, including Israel, Switzerland, Brazil, Iceland, Ireland, Italy and Portugal. "The simple solution is to convert some of that cash into Bitcoin."
No other publicly-traded corporation tracked by the website holds more than $720 million of Bitcoin in its coffers.
Michael Novogratz's Galaxy Digital Holdings, Marathon Patent Group Inc. and Jack Dorsey's Square Inc. round out the top five corporate holders.
Bitcoin's price jumped as much as 16% to a record $44,795 on the news of Tesla's investment.