Musk Finds Humor in Tesla's $420 Stock Getting 'So High'
(Bloomberg) -- Elon Musk is getting a laugh out of a 503-day-old marijuana joke that securities regulators didn't find so funny.
Tesla Inc. climbed above $420 for the first time Monday as fresh financing arranged from banks in China added to optimism supporting a months-long rally. Musk, who was sued by the U.S. Securities and Exchange Commission last year for falsely tweeting he had funding to take the company private at that price, cracked a joke about the milestone on his favorite social-media platform.
Tesla advanced as much as 4% to $422.01, rising a fourth consecutive day. The electric-car maker is said to have lined up more than 10 billion yuan ($1.4 billion) in financing from local banks for its Shanghai factory as it prepares to begin deliveries of China-made Model 3 sedans in the country. An announcement will probably be made as soon as this week, according to a person familiar with the matter.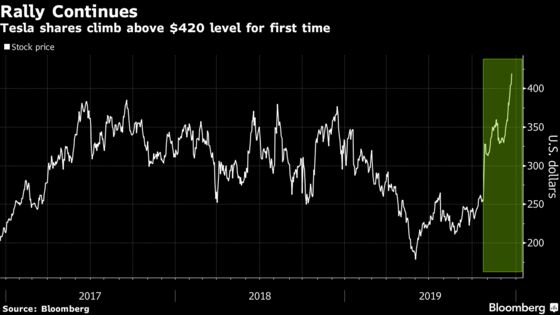 The SEC said in September 2018 that Musk picked $420 as the price at which Tesla would go private to make a weed joke that would impress his girlfriend. In cannabis culture, April 20, or 4/20, is celebrated as a day for smoking marijuana.
Musk and Tesla each agreed to pay $20 million penalties as part of a settlement that barred him from serving as chairman for three years. The company also added new independent directors to its board and was required to hire or designate a securities lawyer to pre-approve certain social-media posts by its billionaire co-founder.
Tesla shares have now surged 65% since reporting a surprise profit on Oct. 23. In addition to starting sales of locally built Model 3s in China soon, the company has accelerated the introduction of its newest model, the Model Y crossover, to the summer of next year, rather than the fall.
"We find it is extremely difficult for bulls and bears alike to conceive of an event path that interrupts the recent string of positive momentum," Adam Jonas, an analyst at Morgan Stanley, said in a note.
Jonas, who rates Tesla the equivalent of a hold, reiterated that Tesla shares could be worth $500 in a bull-case scenario, which would give the company a roughly $100 billion valuation. It now has a market capitalization of almost $76 billion.