Tesla Starts Week With a Gain Ahead of S&P Index Decision
(Bloomberg) -- Tesla Inc. shares were volatile on Monday ahead of a decision by S&P Dow Jones Indices on how it plans to add the electric vehicle company to its benchmark.
Tesla's $554 billion market cap poses a challenge for addition into the index, prompting the S&P to request feedback from the financial community on whether to include the stock all at once on Dec. 21 or break it in over two days -- which would be a first in S&P history.
An S&P spokesperson said the decision will be announced at 5:15pm New York time on Monday.
The company's impending entry to the group of 500 companies has led to a buying frenzy in its stock and on those of other upstart electric vehicle makers, leading to a more than 40% jump in the company's share price just since Nov. 16 when the decision was announced. Tesla shares rose as much as 3.81% to touch a record high of $607.80, and then dropped 5.3%. Currently they are trading down 0.5%.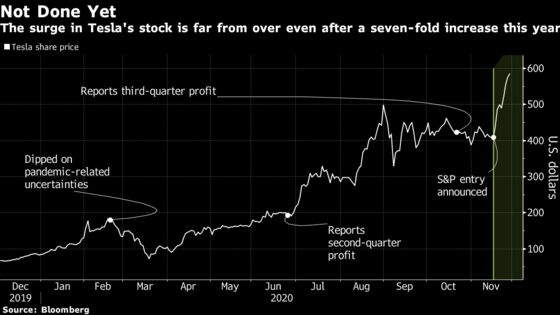 Whichever way it is added, Tesla's inclusion in the prestigious index will be a big event for money managers. Its current size - Tesla would fit between Berkshire Hathaway Inc. and Facebook Inc., the fifth and sixth biggest index members - means managers of index-tracking funds will have to sell stocks of several other companies to make room for the newcomer in their portfolio, leading to a lot of shuffling.
Earlier this month, analysts at Goldman Sachs Group Inc. said the move could result in $8 billion of demand from active U.S. large-cap mutual funds. That would represent about 1.5% of Tesla's current market value.
"The most likely scenario remains two inclusion tranches of 50% each, on Dec. 14 and Dec. 21," said Gary Black, who was chief executive of Aegon Asset Management from mid 2016 through September, and now holds Tesla as a private investor. Black expects the stock to run up ahead of the first inclusion, and then retreat about 10% to 20%, a pattern he said would be consistent with what happened with Facebook Inc.'s shares after its entry into the S&P 500 Index in Dec. 2013.
"Big question is how many shares of Tesla will actually be needed by money managers," Black said. The investor estimates managers overseeing index-tracking funds of about $5 trillion will require 120 million shares to match up the company's expected 1.4% index weighting. Tesla currently has about 948 million shares outstanding and a free float of about 758 million.
Black is bullish on Tesla and has a $720 price target on the stock over six to 12 months. That would represent a 23% rise from Friday's close.
Tesla on Monday also won Chinese approval to start selling its Shanghai-assembled Model Y SUVs in the country, a development that can further add to the already-high investor optimism.
Meanwhile, electric vehicle startup Nikola Corp. suffered a setback on Monday, as General Motors Co. scaled back a partnership with the company, scrapping a tentative deal to jointly build an electric pickup truck and replaced it with a non-binding deal to supply hydrogen-fuel technology.