Tesla Shares Form Death Cross, Portending Further Declines
(Bloomberg) -- Tesla Inc. shares formed a trading pattern Friday that is closely watched by traders as it often precedes further losses for the stock.
The short-term average price for the stock fell below the long-term average, forming a so-called death cross. Shares of the electric vehicle maker have been on a rough ride already this year, falling 8%, even as the broader market rose nearly 16%.
The decline reflects growing investor concern about competition from traditional carmakers that are pushing aggressively into the EV race, as well as the company's future growth trajectory in China, which is among the world's biggest markets for automobiles. On Thursday, Tesla unveiled a significantly cheaper version of its Model Y car in the country, even as its China deliveries dropped last month.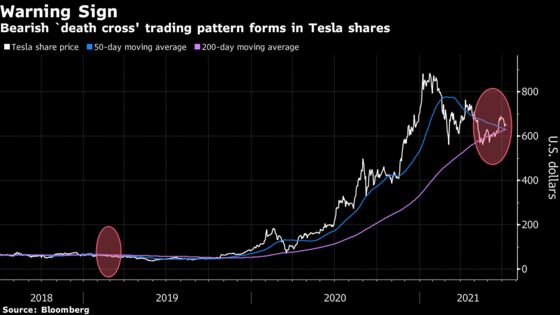 The last time Tesla shares formed this trading pattern was in February 2019, and it preceded a more than 40% decline in the share price within 65 days, to $35.79 from $63.98.
Tesla shares dropped as much as 1.2% on Friday in New York. Shares of smaller EV startups also languished, with Workhorse Group Inc. and XPeng Inc. among the biggest decliners in the group.