Tesla's Turmoil Doesn't Stop Younger Investors From Buying More
(Bloomberg) -- Elon Musk's now-infamous "taking Tesla private" tweet has sent the automaker's stock price on a bumpy ride, but it hasn't shaken the faith of young retail investors.
Users of Robinhood, a popular free stock-trading app, have been buying Tesla Inc. stock 10 percent more than they've been selling since Musk's Aug. 7 tweet.
Those under the age of 30 have been especially bullish. They've bought 30 percent more shares than they've sold, according to Sahill Poddar, a data scientist for Robinhood. Investors age 30 and older have been net sellers, he said.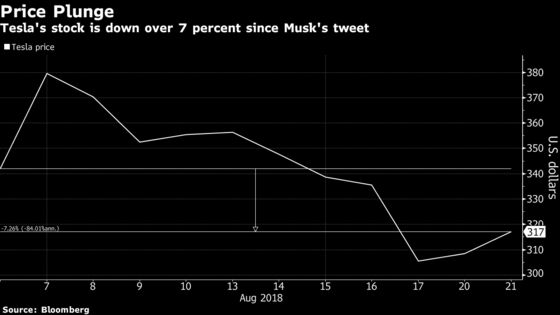 In addition to discrepancies by age, Poddar identified a geographical divide.
Robinhood users from California, where Tesla is headquartered, have bought 15 percent more shares than they've sold. Investors from Michigan, the home state of U.S. automotive stalwarts Ford Motor Co. and General Motors Co., have sold 5 percent more shares than they've purchased.