Tesla's Immense Cash Haul Leaves It in Rarefied Tier of S&P 500
(Bloomberg) -- Tesla Inc. will bring a huge war chest of cash to go with its eye-popping market valuation when it joins the S&P 500 Index later this month.
The electric vehicle maker's latest trip to the capital markets -- raising as much as $5 billion -- means it will have raised a total of $12 billion this year alone, or more cash than is held by 88% of the companies in the S&P 500, including corporate stalwarts such as Pfizer Inc., AT&T Inc. and Caterpillar Inc. The offering would also balloon Tesla's cash balance to roughly $20 billion, according to Bloomberg Intelligence credit analyst Joel Levington.
The money will help support Tesla's capital spending, which is expected to double in each of the next two years, as the company focuses on building two car factories -- one in Austin, Texas, and its first European plant, near Berlin.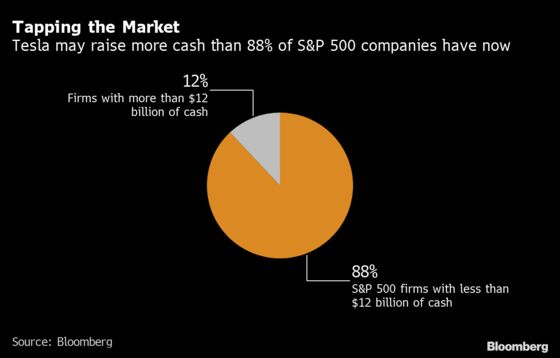 The company's nearly $600 billion market value places it right between Facebook Inc. and Berkshire Hathaway Inc., and would make it the sixth biggest stock in the S&P.