Tesla Penalty Highlights Aggressive Year-End for SEC Enforcement
(Bloomberg) -- As the U.S. Securities and Exchange Commission raced to punish Elon Musk and Tesla Inc. over his infamous August tweet storm, the regulator was already in the midst of a frenzied push to sanction companies.
The effort paid off. The SEC's September settlements with Musk and Tesla were part of a second-half surge that reversed what was shaping up to be a lean fiscal year for agency enforcement.
The SEC won almost $2.59 billion in fines, disgorgement and interest against corporations in the final six months of the year that ended Sept. 30, dwarfing the $98.8 million in penalties for the first half, according to an analysis that Georgetown University Law Professor Urska Velikonja conducted for Bloomberg.
"It's a massive change," Velikonja, who tracks the regulator's investigations, said in an interview. "It really reflects the fact that in the first half of the fiscal year there were very few public companies and Wall Street firms targeted."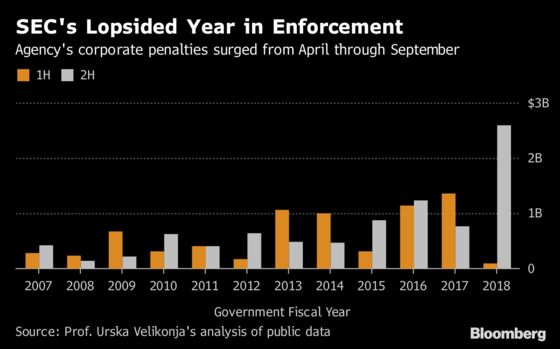 The turnaround, bolstered by a massive September settlement with the Brazilian oil giant known as Petrobras, comes as the SEC battles a perception among some in Washington that it is going soft on corporate wrongdoing under leaders appointed by President Donald Trump.
The SEC will probably release its official enforcement statistics for fiscal 2018 in the upcoming weeks.
Velikonja said she expects the agency to report more than $4 billion in penalties, a figure higher than the $2.69 billion she came up with for Bloomberg. That's because the regulator's count typically encompasses contested cases, and includes fines against individuals, not just companies. Velikonja only tallied settled enforcement actions filed in court or resolved internally within the SEC.
SEC spokesman John Nester declined to comment.
For fiscal 2017, which included SEC Chairman Jay Clayton's first few months in charge, penalties fell from the previous year. Still, the former Wall Street lawyer insisted there had been no letup in the agency's aggressiveness. Steve Peikin and Stephanie Avakian, who co-lead the unit that probes alleged wrongdoing and recommends penalties, echoed their boss's assertion.
But behind closed doors, according to people familiar with the matter, there was mounting concern that another year of low numbers would trigger attacks, particularly from Democratic lawmakers. At one point, Peikin prodded enforcement lawyers to wrap up unfinished cases. Meanwhile, Avakian made a public plea in a Sept. 20 speech, urging potential critics not to judge the SEC solely by the amount of fines it collects.
The Sept. 29 settlement with Tesla over Musk's tweets about taking the company private came unusually fast for the SEC, where investigations can be lengthy and penalties are often paid years after the allegations in question. Tesla and Musk, the electric-car maker's chief executive officer, each agreed to pay $20 million to resolve the case.
A judge still needs to sign-off on the deal, and Musk hasn't behaved like most executives do after settling with the agency. In an Oct. 4 tweet, he taunted the regulator, referring to it as the "Shortseller Enrichment Commission."
The SEC's annual sanctions figure is closely scrutinized by Congress as a barometer of how well the agency is policing its beat. Senator Sherrod Brown, an Ohio Democrat, said during a July hearing that the downward trend in enforcement actions was "a serious problem."
Petrobras's $1.79 billion in penalties for allegedly facilitating bribes to politicians made up a big chunk of the $2.59 billion that the SEC collected from companies in the second half of the fiscal year, according to Velikonja.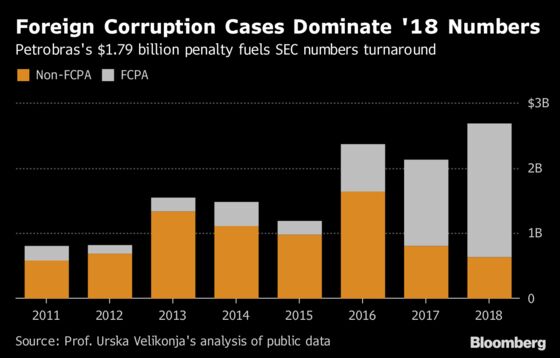 The Petrobras figure includes sanctions paid to Brazilian authorities and to shareholders who had sued the oil company. While Petrobras won't pay the SEC more than an $85.3 million fine, Velikonja said she used the full amount in her analysis because she expects the agency will include the larger number in its count, as the regulator has done with similar settlements in previous years.
Republicans Disappointed?
The uptick in corporate penalties could appease congressional Democrats. But Republicans and business groups such as the U.S. Chamber of Commerce may be less pleased.
Republican SEC Commissioner Hester Peirce has frequently voted against corporate fines, arguing that such sanctions are ultimately paid out by shareholders who have already been victimized by a company's alleged fraud.
"If it's going to be shareholders who were hurt by the activity for which we're penalizing the company then I don't think it makes sense to impose a penalty," she said in an interview.