Tesla Options Show Market Unfazed by $920 Million Bond Paydown
(Bloomberg) -- As Tesla Inc. closes in on the deadline to make its largest debt payment ever, markets are signaling that the electric-vehicle maker will do so with what amounts to barely a blip in its notoriously volatile stock.
Options prices indicate a 3.7 percent move in Tesla's shares between now and Friday, when the $920 million debt comes due. The implied volatility is around 2.5 times lower than levels reached when the stock was roiled last October. The company said in its fourth-quarter shareholder letter that it had sufficient cash to "comfortably" settle the convertible bond. It had about $3.7 billion of cash and equivalents as of Dec. 31.
The options market is notably calm next to the view of at least one analyst who says the money could've been better spent.
"I would characterize the payment in cash as extremely unfortunate timing," Jeffrey Osborne, an analyst at Cowen & Co., wrote in an email. It will come at a time when Tesla is "under-invested" in auto servicing and is undertaking multiple growth initiatives such as the Semi truck, pickup, Roadster and a new China facility.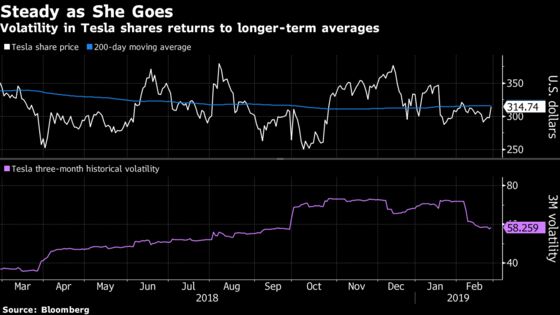 "Having that $920 million in cash could have accelerated many of those vectors of growth and avoided any risk of under-investment in the customer experience and potential risk to the brand," Osborne said.
Tesla Chief Executive Officer Elon Musk has made headlines this week, as the U.S. Securities and Exchange Commission asked a judge on Monday to hold him in contempt for violating a settlement that required him to get the company's approval before communicating material information to investors. He also teased unspecified Tesla news coming Thursday in a series of cryptic tweets.
Gene Munster, managing partner at the venture capital firm Loup Ventures, said the news Musk referred to could be about the debt or other developments, such as an update on the Model Y.
Regardless of the Musk distractions, near-term implied volatility reflected in options prices is on the low side, trading around 62 percent. That's in line with its three-month historical average and well below the 137 percent it reached in October when shares touched a 52-week low.
Tesla's stock rose as much as 6.2 percent on Wednesday after Musk's vague tweets, the biggest one-day gain since Jan. 4. The rally still left the shares well below the level necessary to help convert the $920 million in bonds to stock, making a conversion to equity unlikely.