Tesla Model S Loses Consumer Reports Nod While Model 3 Rates Average
(Bloomberg) -- The Consumer Reports annual auto reliability survey is out, and Tesla Inc.'s Model S has again lost a recommendation from the magazine after its rating fell to below average. The Model 3 gets an average grade, good enough to keep its recommended status.
Five of the six top brands for reliability were Japanese, led by Lexus, Toyota and Mazda, whose fixes to the CX-9 SUV and MX-5 Miata roadster fueled the most improvement in this year's survey -- a nine-spot jump in the rankings.
Eleven of the 12 least-reliable brands were American, with Buick dropping the most -- 11 spots -- on problems with its Enclave SUV.
Model S reliability has declined as owners have reported suspension problems and issues with door handles; the Model X SUV remains much worse than average, due to its balky falcon-wing doors and center display screen.
Chinese-owned Swedish brand Volvo falls six spots to rank worst in the survey, plagued by infotainment system issues and reports of rattling sounds in the interior cabin.
Ford fared best among U.S. automakers with its namesake brand ranking 18th, though one of its top-performing models -- the Taurus sedan -- is getting dropped from the lineup.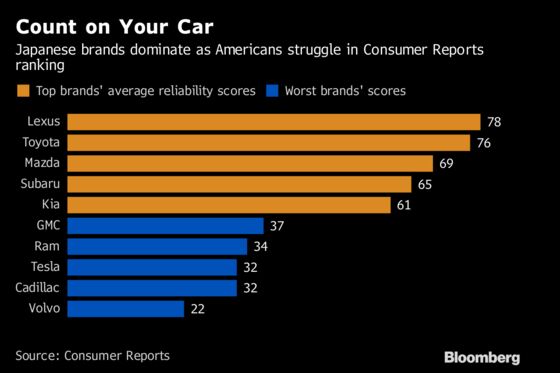 Tesla shares briefly dipped after the Consumer Reports's results, then recovered to trade up 0.5 percent as of 1 p.m. Wednesday in New York.
Tesla Chief Executive Officer Elon Musk took Consumer Reports' recommendations seriously enough to get on the phone with the magazine's director of testing when it rebuffed the Model 3 sedan in May over poor braking performance.
Within days, Tesla released an over-the-air software update that improved stopping distance by almost 20 feet, and Consumer Reports said it would reinstate the car's recommended status.