Tesla's Solar-Panel Business Posts Best Quarter Since 2018
(Bloomberg) -- Tesla Inc.'s solar-panel business is on the upswing.
The California automaker deployed 86 megawatts worth of solar during the last three months of 2020 -- its best showing since the third quarter of 2018, when it reported 93 megawatts.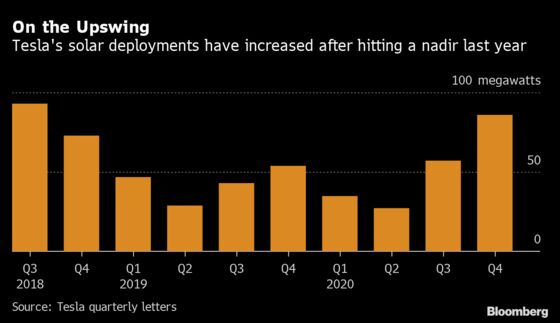 Tesla attributed the increase, in part, to lower prices. It also benefited from mounting demand from U.S. homeowners. Chief Executive Elon Musk said the company is putting a lot of attention on solar after devoting itself for "a few years" to Model 3 production.
"We do actually expect to become the market-share leader in solar and then go far beyond that," Musk said Wednesday on the company's fourth-quarter earnings call.
Still, Tesla fell far short of Sunrun Inc., the largest U.S. residential-solar company. Sunrun installed almost 172 megawatts last quarter, according to preliminary results released this week.