Tesla Just Had a Blowout Quarter, Now Can Musk Let It Be?
(Bloomberg) -- Investors who stuck with Tesla Inc. and its erratic superstar chief executive might finally be getting rewarded.
Shares of the electric vehicle maker jumped more than 15 percent in post-market trading Wednesday after the company reported a quarterly profit --only its third ever -- and better-than-expected cash flow. If the share gains hold during regular trading on Thursday, investors may see the nearly 16 percent rout they've weathered since beginning of the third quarter get wiped off.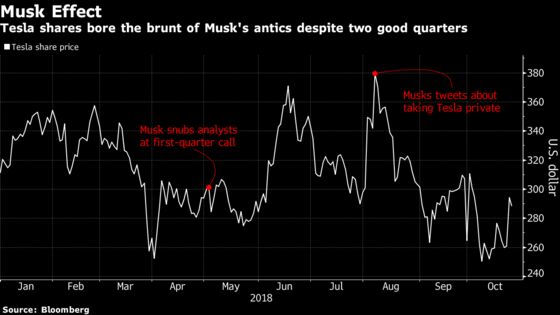 However, a lot still depends on what CEO Elon Musk chooses to say, or not, during the company's earnings call scheduled to begin at 6:30 p.m. New York time. While investors are keen to hear what Musk will say about the company's goals for the fourth quarter and beyond, they also hope it won't be a repeat of the first-quarter call, when Musk rebuffed Wall Street analysts for asking "boring, bonehead" questions. The behavior ended up hurting the stock, even if briefly, with the shares dropping as much as 8.6 percent the following day.