Tesla's Surprise Profit Fails to Allay Analysts' Restart Worries
(Bloomberg) -- Tesla Inc. shares jumped 9% in pre-market trading after the U.S. electric carmaker reported a surprise quarterly profit, though analyst views on the report were mixed.
The company is seeing strong demand in China, but faces uncertainty over the timing of a restart to production in Fremont, California after restrictions were imposed due to the coronavirus. The period may have also benefited from temporarily low capital expenditure.
Analysts at Piper Sandler and CFRA raised their price targets while Citigroup Inc.'s Itay Michaeli said the report was unlikely to settle any bull versus bear debates. The stock heads into Thursday's trading already up more than 90% in 2020.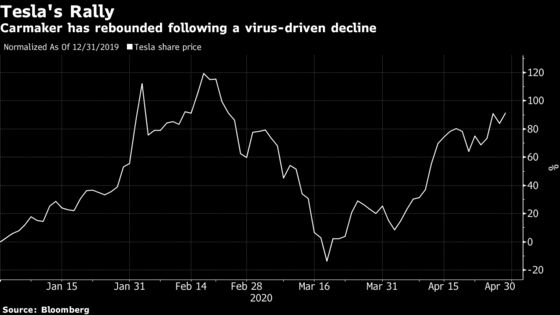 Here's a summary of what analysts have to say:
An impressive performance, delivering a profit against negative Street expectations.
While the rest of the world is shut down, strong Model 3 demand out of China remains a ray of light for Tesla.
Should further fuel the parabolic rally.
Piper Sandler, Alexander Potter
Overweight
Raises price target to $939 from $819
Once again, profitability and capital efficiency necessitate upward earnings estimate revisions.
Gross margins are persistently "stout." Even with aggressive capacity expansion, capex continues to be lower than expected.
"We are increasingly starting to ask ourselves: with Tesla in this market, how will competitors stay relevant?"
Hold
Price target raised to $775 from $480
First-quarter earnings were "well ahead" of expectations as auto gross margins expanded.
However, there's a lack of visibility given no news regarding the restart of the all-important Fremont factory that accounts for over 70% of vehicle production.
Morgan Stanley, Adam Jonas
Equal-weight
Price target $440
Quarter was modestly more constructive than bearish. Customer deposits increased, suggesting minimal order cancellation.
Guidance suspension is understandable given uncertainty, but may disappoint some.
Expects firm to burn a lot of cash in second quarter, but not many investors will doubt its financial strength.
While we agree that Tesla appeared to manage well through a challenging quarter, the profit was more than explained by regulatory credits.
Lower opex and capex, a large free cash flow burn and the lack of an April cash update are offsetting factors.