Tesla Is More Overbought Than Bitcoin During Height of Bubble
(Bloomberg) -- Commenting on the meteoric rise in Tesla Inc., GLJ Research's Gordon Johnson declared the share surge to be a bubble that's "effectively Bitcoin on wheels."
Hyperbole? No. By one technical indicator, the speed of Tesla's rally exceeds that of the cryptocurrency at its peak.
The 14-day relative strength index (RSI), a gauge of the magnitude and persistence of price movements, stands at 92.5 for the automaker. In December 2017, when Bitcoin traded as high as $19,511, the 14-day RSI failed to break 91. However, at other times in the past, Bitcoin was more technically overbought than Tesla is at present.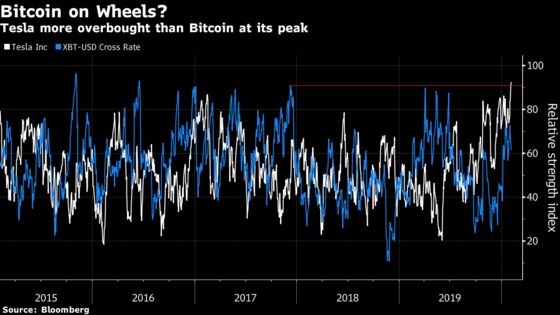 An asset is considered overbought if the RSI exceeds 70, and oversold if below 30.