Tesla Shares Whiplashed as Musk Cans Long-Range Plaid+ Sedan
(Bloomberg) -- Tesla Inc. shares shrugged off disappointment from a decision to drop a longer-range version of its high-performance Model S sedan on Monday to end the day higher.
The electric-car maker's shares fell as much as 2.7% in New York after Elon Musk tweeted that the Model S Plaid+ sedan was canceled, but later recovered to close the day up 1% following gains in tech stocks in the last hour of trading. The chief executive officer said there's "no need" to offer the car because the shorter-range Plaid version "is just so good."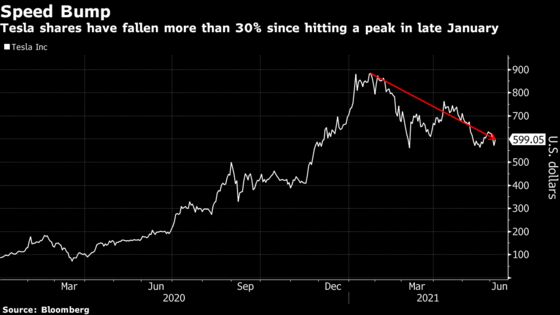 "This is not the news the Street wanted to hear," Wedbush Securities analyst Daniel Ives said. "At the surface, the excuse makes sense, but it also feels like 'the dog ate the homework.'"
Tesla listed the Plaid+ on its website as offering more than 520 miles (837 kilometers) of range, compared with about 390 for the regular Plaid model, and had been taking refundable deposits for the car for months.
Ives said Plaid+ was expected to draw niche demand and that the global chip shortage has forced the company to make some tough choices with regard to production.
One other factor could be the availability of new kinds of batteries Tesla is developing. The carmaker shared plans in September to build larger, energy-denser and more powerful 4680 cells that would enable the company to offer both cheaper and higher-performing EVs. In April, however, Musk said those cells were probably 12 to 18 months away from volume production.
The decision to cancel Plaid+, announced just days before a Plaid delivery event on June 10, is only the latest in a run of negative news that has battered Tesla shares in recent months, including reports that point toward a slowdown in China sales, multiple crashes, several recalls and the ongoing semiconductor shortage weighing on all automakers.
Tesla shares are now down about 14% this year compared with the 13% advance for the S&P 500 Index.