Tesla Default Insurance Jumps to New High After SEC Sues Musk
(Bloomberg) -- The cost of protecting Tesla Inc.'s junk bonds against default reached a fresh high on Friday after the Securities and Exchange Commission sued Chief Executive Elon Musk for fraud and sought to remove him from his job.
The upfront cost of insuring Tesla's debt for five year rose 1.1 percentage point to 22.6 percentage points at 11:15 a.m. in New York, according to credit-default swaps prices from CMA. The CDS reached the highest since it began trading earlier this year. For every $10 million of bonds protected, an investor would pay $2.26 million upfront. At that level the market is effectively pricing a 47 percent chance of default.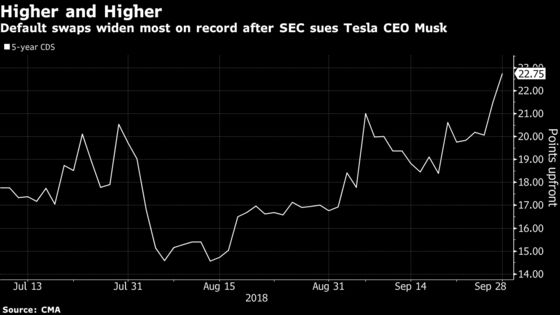 Tesla's high-yield bonds fell to 84.75 cents on the dollar, a decline of half a cent, according to Trace bond price data. The company's shares fell as much as 13 percent.
The SEC sued Musk after the market closed on Thursday, alleging that he misled investors by claiming he'd lined up funding for a buyout of his company. The electric-car maker's board said in a joint statement that they fully support Musk. The U.S. regulator is seeking unspecified monetary penalties and to bar the Tesla chairman and CEO from serving as an officer or a director of a public company.