Tesla Plans Another Tent to Store Vehicles Leaving Its Factory
(Bloomberg) -- Tesla Inc. is all about tents.
The electric-car maker has applied with the city of Fremont, California, to build a 4,000-square-foot tent where vehicles will be wrapped in protective material for transit, according to a permit application filed last month. The new structure will be constructed for the south lot of Tesla's outbound logistics yard.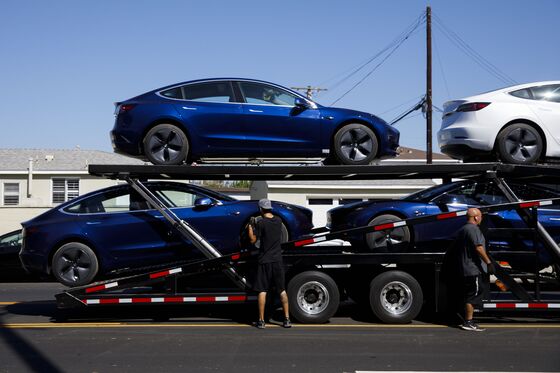 In June, Tesla built a general assembly line for the Model 3 sedan underneath a massive outdoor tent near its Fremont vehicle factory's paint shop. The move was widely derided by auto-manufacturing experts but played a key role in boosting production beginning late in the second quarter.
The wrapping tent may address a criticism lobbed at the company by some of the short sellers who Chief Executive Officer Elon Musk has publicly expressed a desire to "burn." Bearish investors have been circulating images of parking lots packed with Tesla vehicles that are uncovered and exposed to the elements as the carmaker has been going through what Musk has coined on Twitter to be "delivery logistics hell." Unwrapped Tesla vehicles have also been photographed on trailers that are transporting them to stores.
Tesla is slated to report third-quarter production and delivery figures early this week. Optimism about the results and the outcome of Musk's settlement with the Securities and Exchange Commission requires him to step down as chairman -- but remain as CEO -- sent the company shares soaring as much as 18 percent Monday, the biggest intraday jump since February 2014.
For more on Tesla, check out the Decrypted  podcast: