Tesla Bruises Another Hedge Fund With Bearish GMT Facing Losses
(Bloomberg) -- Tesla Inc.'s stock surge is taking a toll on another hedge fund manager as Tom Claugus's GMT Capital suffered losses last month after betting against the electric-car maker.
GMT's three Bay Resource long-short equity funds, which have roughly $3.3 billion in combined assets, each plunged about 10% in January, Claugus confirmed. Tesla's heavily shorted stock soared 55% in the month, helped by the company's second straight quarter of blowout earnings.
"Tesla has done a really good job getting to sustainability," Claugus said in a telephone interview. Still, he said, "the valuation is detached from reality."
Claugus joins investors including hedge fund managers David Einhorn and Crispin Odey who have held bearish wagers on Tesla as the stock reached records before retreating from the Feb. 4 peak. Some traders have covered their short positions against Elon Musk's company, such as famed "Big Short" investor Steve Eisman, who called the stock "cult-like."
The shares gained 83% this year through Wednesday. The stock is up 0.8% at 10:36 a.m. in New York after falling as much as 4.2% earlier Thursday.
Even brief pullbacks in the stock barely slowed Tesla down. The company had a market capitalization of $138 billion at the close of trading Wednesday. It has turned a profit in four of the last six quarters, and Musk accelerated the expected introduction of the new Model Y crossover vehicle, which he predicts will outsell all other Teslas combined.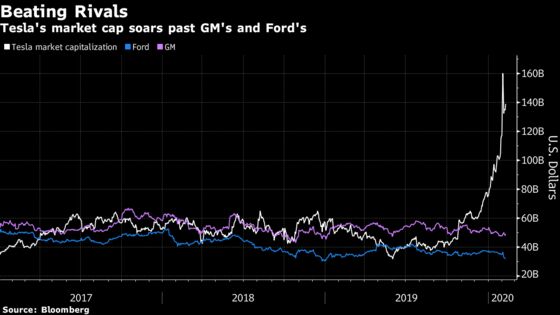 For Einhorn, whose Greenlight Capital fell 7.6% across its funds in January, the bet against Tesla is mostly expressed through put options, so his firm's exposure to the position has shrunk as the stock rallied, Bloomberg has reported.
Odey's flagship Odey European Inc. fund dropped 11.2% in January, according to a person with knowledge of the matter. A short bet on Tesla was its fourth-largest position, said the person, who asked not to be identified because the information isn't public. A spokesman for Odey declined to comment.
GMT has been short Tesla for a number of years. The position currently amounts to about 4.4% of its portfolio, said Claugus, who started the Atlanta-based firm in 1993. The funds were up 10% to 12% last year, depending on the fund.
Claugus said Tesla was just one factor in last month's loss. Long bets on stocks with conservative valuations, largely in the oil and gas and materials sectors, also hurt.
"The coronavirus is hitting anything that's cyclical and economically sensitive, so it's sort of a worst of all worlds for us," Claugus said. "When markets get this overheated I think it's a very risky period. The run-up has lasted for a long time and is turning into a little big of a speculative bubble."
Hedge funds overall have had a tough start to the year, with the average manager falling about 0.2% in January, according to data compiled by Bloomberg. Global equity markets fell and bonds rallied last month amid concerns that the spread of the coronavirus will hurt growth.