Tesla Bears Are Getting the Upper Hand Over Bulls Ahead of Results
(Bloomberg) -- The clouds are darkening over Tesla Inc., which is due to report second-quarter results later this week.
While the perennial bull-bear tussle over the electric-vehicle maker is nothing new, this time bears seem to be dominating the conversation. Several Wall Street analysts struck a cautious tone Monday ahead of Wednesday's report, citing concerns about the company's cash flow, the sustainability of Model 3 production and gross margins.
Model 3 production has long been a source of contention between Tesla longs and shorts. Although the company managed to temporarily appease some angst by pulling out all stops and reaching the 5,000-cars-a-week milestone at the end of June, the market soon started questioning if that rate could last. Shares in the electric-car maker have fallen about 16 percent since reporting quarterly vehicle deliveries and production numbers on July 2.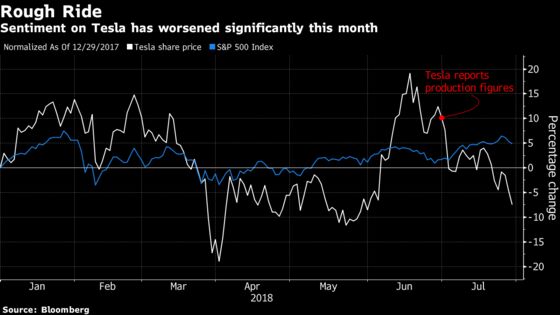 "Tesla's goal is to exit August at a run rate of 6,000 Model 3s per week. We're expecting the company to hit that mark at the end of September," Loup Ventures' Gene Munster, a long-time bull on the company, said in a note on Monday. His expectations for Tesla's profitability weren't very rosy either. He expects Tesla's losses to be wider than Wall Street estimates, adding that it would "cause investors to question the company's profitability guidance for September and December" quarters.
Analysts on average estimate the company will report an adjusted loss of $2.91 a share for the second quarter, according to data compiled by Bloomberg.
The doubts analysts are raising go beyond production and profitability. Goldman Sachs analyst David Tamberrino said that according to an analysis of Model 3 order conversion and customer reception, enthusiasm for the vehicle might be waning just as the number of test drives and order availability increases.
This is a notion Elon Musk bristled at earlier this month. After Needham analyst Rajvindra Gill downgraded the stock to the equivalent of a sell and said Model 3 refunds were outpacing orders, the chief executive officer weighed in on Twitter.
"Dunno where this bs is coming from," Musk wrote July 19. "Who knows about the future, but last week we had over 2000 S/X and 5000 Model 3 *new* net orders."