Tesco Takes Aim at Combined Sainsbury, Asda With Price Cuts
(Bloomberg) -- Tesco Plc racked up its 10th consecutive quarter of growth and cut prices in a pre-emptive strike against rivals preparing to challenge its role as the U.K.'s largest retailer.
The supermarket operator has lowered prices on its own-brand meat, fruit and vegetables, countering reductions promised by J Sainsbury Plc as part of its planned acquisition of Walmart Inc.'s Asda -- a deal that could vault the combined companies ahead of longtime No. 1 Tesco. The reductions followed faster-than-expected sales growth in the latest quarter.
"There are strengthening signs that Tesco is returning to some of its former glories," Richard Hunter, head of markets at Interactive Investor, said by email. The shares rose as much as 3.4 percent early Friday in London.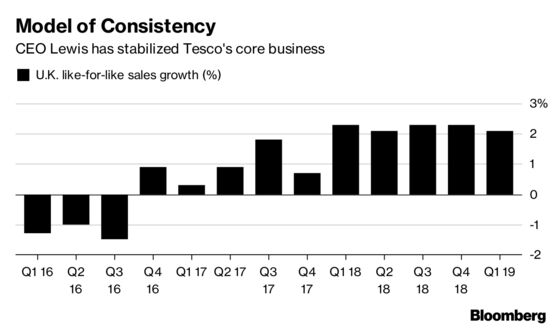 In just under four years, Chief Executive Officer Dave Lewis has taken Tesco from a company in disarray to one of the industry's most reliable performers by cutting prices and slashing costs. As Tesco and the U.K.'s other large grocers weather the threat from discounters Aldi and Lidl, they're also aiming to shore up their positions through mergers and acquisitions; before Sainsbury agreed to buy Asda, Tesco snapped up wholesaler Booker.
Tesco is cutting prices on its entry-level Farm Brands range: a 500-gram (18-ounce) pack of ground beef has been cut by 20 pence to 1.49 pounds ($1.97), while a 2.5 kilogram bag of potatoes has been reduced by 20 pence to 1.15 pounds. The cuts were funded through buying larger quantities of products from fewer suppliers, Lewis said on a call with reporters.
In a bid to soften any regulatory opposition his company's purchase of Asda, Sainsbury CEO Mike Coupe pledged to use the buying heft of the combined grocers to cut prices on commonly bought products by 10 percent. Lewis said Tesco planned to submit its thoughts on the deal to U.K. regulators.
Excluding Booker, Tesco's U.K. same-store sales rose 2.1 percent in the first quarter. That beat analysts' estimates for growth of 1.9 percent.
The acquisition of Booker also made a healthy contribution to Tesco's growth. After winning new contracts, the unit's like-for-like sales grew 14.3 percent. Tesco has begun stocking the 30 top-selling Booker lines in more than 50 stores, after good results from a trial of two outlets.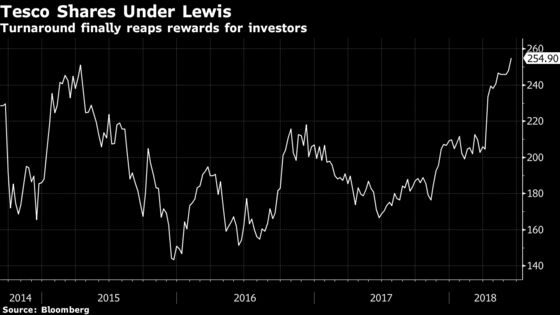 Tesco's resilient performance contrasts with the turmoil across much of the U.K.'s retail sector. Lewis said taxes on commercial property, known as business rates, were a major factor.
"The number of retail business failures there have been this year is unprecedented," Lewis said. "Business rates needs to be reviewed. Given the pressure on sales for retail, constantly looking for the amount of money that's coming out of bricks and mortar is not sustainable long-term."